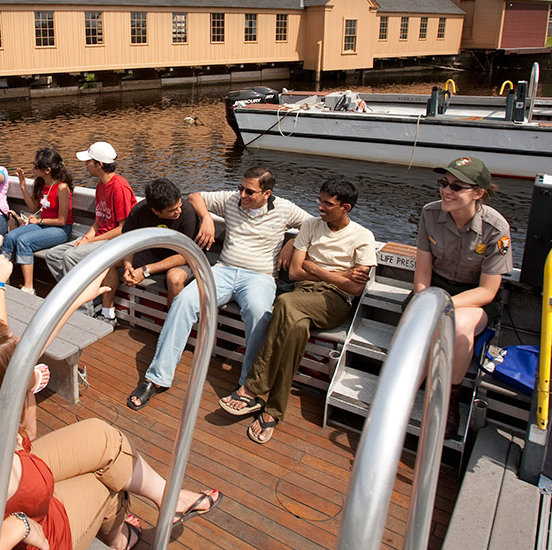 News Release Date:
May 20, 2011
Contact: Phil Lupsiewicz, 978-275-1705
Lowell, MA — Canal boat tours on weekends and a river-related event kick off the early summer season between Memorial Day weekend through June 19 at Lowell National Historical Park. The Park, one of over 390 units of the National Park Service, preserves and interprets the history of the American Industrial Revolution in Lowell, Massachusetts. The park in downtown Lowell, Massachusetts includes historic cotton textile mills, 5.6 miles of power canals, operating gatehouses, and worker housing. The Park offerings from Saturday, May 28, 2011 through Friday, June 17, 2011 are adjusted for the season. An increased schedule, with canal boat tours offered daily, begins Saturday, June 18.
Tours:
Working the Water Tour
Who dug the canals? Who worked the locks and gates? Discover the human force behind the power of the canal system on this 90-minute tour on the Pawtucket Canal. This canal boat tour is offered Saturdays, Sundays, and Memorial Day beginning May 28 through June 17 at 11:00am, 12:00pm, 2:00pm, 3:00 pm. Fees: Adults, $8.00; Seniors/students, $7.00; youth (6 -16 years old), $6.00; Children 5 and under, free.
Views of Lowell Tour
Join a park ranger to discover intriguing locations and stories of Lowell. You may learn about the downtown locks and canal structures; explore the relationship of the river to the power and production of the industrial city; or learn about the lives of Lowell's famous "mill girls." Tour travels primarily by trolley with some walking. This tour is offered at 2:30 pm, Monday -Friday. Free.

Special Events:
Lowell Folklife Series
Fiddle player Laurel Martin and step dancers Kieran Jordan and Kevin Doyle will perform Irish music and dance traditions. This exciting evening of solo, duet, and group performances, plus special guest appearances, will reveal the cultural history and shared languages which these artists express, preserve, and pass on. This free concert will take place Saturday, June 4th at 8:00 p.m. at the Merrimack Repertory, 50 East Merrimack Street, in downtown Lowell.
Additional Visitor Offerings:
In addition to the boat tours and special events, Lowell National Historical Park offers the following opportunities to discover Lowell from May 28 through June 17:
Visitor Center
246 Market Street
9:00 am – 5:00 pm, Daily.
Begin your visit at the Visitor Center in Market Mills, the former Bigelow Carpet Company complex, one of the city's original textile mills. At the Visitor Center, you can plan your exploration of the major park sites and the city's rich industrial past. Here "Lowell: the Industrial Revelation", an award –winning multimedia presentation, is available introducing visitors to the story of how people, technology, and capital came together to revolutionize textile production—and a way of life—in Lowell and other American cities. Make reservations for park tours and other programs; visit the Children's Corner, sign up for the Junior Ranger Program, and shop in the Museum Store. Learn about Lowell's many cultural institutions and the diverse array of special events that celebrate the city's rich ethnic heritage. Free admission.
Boott Cotton Mills Museum,
115 John Street
9:30 am – 5:00 pm, Daily.
Don't miss the roar of a 1920s weave room with operating power looms! The park's primary exhibit includes the weave room and interactive exhibits and video programs about the Industrial Revolution, labor, and the rise, fall, and rebirth of Lowell. See insert for seasonal hours. Fees: Adults, $6.00; Youths, 6 -16 & Students $3.00; Senior Discount; Children 5 and under, free. Call to inquire about special group rates.
Mill Girls & Immigrants Exhibit,
4o French Street
1:30 pm – 5:00 pm, Daily.
Explore the history of "mill girls" and immigrants in a Boott Mills boardinghouse. The Mill Girls & Immigrants Exhibit, located in the Mogan Cultural Center, tells the human story of the Industrial Revolution by concentrating on the working people of Lowell. Free admission.
TROLLEYS
Historic replica trolleys operate daily carrying visitors and students from the Visitor Center to the Boott Mills. Schedules vary; please check for the trolley schedule at the Visitor Center Desk. Free.
Look for the expanded summer offerings beginning Saturday, June 18 and other Park information at www.nps.gov/lowe or by calling 978-970-5000.
-NPS-