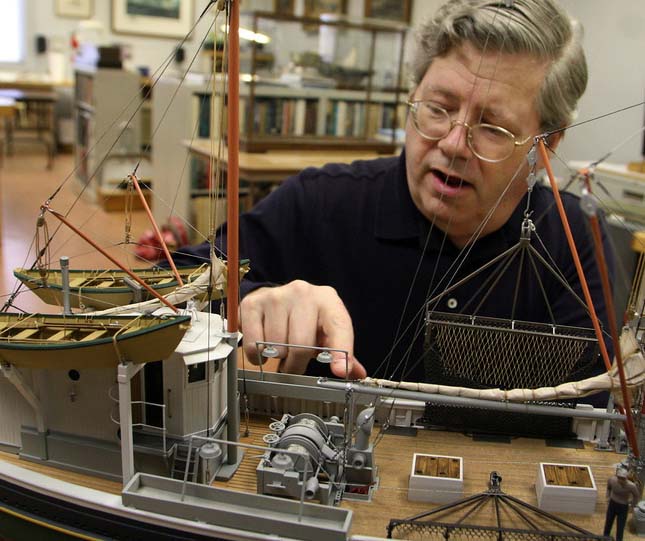 News Release Date:
March 28, 2013
Contact: Maggie Holtzberg, 978-275-1719
Contact: Phil Lupsiewicz, 978-275-1705
Lowell, Massachusetts. Looking for a reminder of warmer days, strolling along Lucy Larcom Park during the Lowell Folk Festival? Join us for a folklife program during the "off-season." Come hear three expert craftsmen talk about the role model-making plays in building timber framed schooners, historic representations of seafaring vessels, and pipe organs. Joining us will be National Heritage Fellow and shipwright Harold A. Burnham of Essex, noted maritime historian and ship model builder Erik Ronnberg, Jr. of Rockport, and Greg Bover, VP of Operations at CB Fisk Pipe Organs, Inc. of Gloucester.

For wooden boat builder Harold A. Burnham, a half-hull ship model is a design tool. Similarly,
Bover's company creates precise scale models to ensure each pipe organ complements the architecture that surrounds it. For Ronnberg, however, the full-hull ship model is a historical representation, a form of visual storytelling. All three individuals not only know each other, but think very highly of each other's work. Their discussion will no doubt be full of fascinating details, tricks of the trade, and little known facts about the importance of model making.

The Lowell Folklife Series program is free & open to the public at 3:30 pm Sunday, April 21, 2013, at the Lowell National Historical Park Visitor Center, 246 Market Street, Lowell, MA. For information on the event visit or call Maggie Holtzberg at 978-275-1719. For more information about Lowell National Historical Park visit www.nps.gov/lowe or call 978-970-5000.