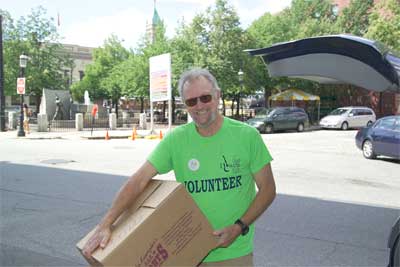 News Release Date:
January 7, 2009
Contact: Phil Lupsiewicz, 978-275-1705
Mike Wurm, Volunteer Coordinator at Lowell National Historical Park has retired from government service after 40 years. Twenty-six of those years were in the service of Lowell NHP where he initially was involved in early park exhibit development that was to guide thousands of visitors through Lowell while telling the complex stories of America's industrial revolution.  Later assigned to the ranger corps as supervisory park ranger, Mike mentored numerous up-and-coming park rangers.  Mike's interest in the layers of Lowell's story continued to grow and he became the "go-to" person for unique programs developed and offered by the park.  Mike was a popular requested presenter for outreach programs on a wide assortment of topics.
Many years of research paired with a love for the common man's story led Mike to build long and lasting relationships with members of all facets of Lowell's diverse community which was evident by the numerous requests which came to Mike to talk and lead tours of Lowell's neighborhoods.  "Industrial history is an acquired taste," and that drove Mike to reach out to community members and visitors alike to share the common threads which connected the park's stories to the present world.
Mike's deep knowledge and relationships with the many cooperators of the park made him a sure fit as the volunteer coordinator, which he presently occupied for the better part of the last decade.  Mike became known for his volunteer coordination of the park's biggest single yearly event, The Lowell Folk Festival, where thousands of volunteer hours are contributed annually. This event along with Park's broad VIP participation keep the park's volunteer program as one of the leading programs in the system.
Always a strong competitor, one could frequently find Mike coaching, refereeing and participating in the numerous sports leagues in the Merrimack Valley. His love for sport, competition and teamwork has kept Mike active throughout the years and will continue as he moves onto his new role of distinguished park alumni.