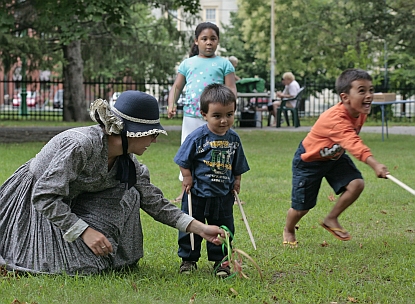 News Release Date:
April 4, 2014
Contact: Phil Lupsiewicz, 978-275-1705
Are you ready to get healthy? Grow your garden? Dance and stretch? Play outside? Find your personal wellness at the LoWellness Festival on Saturday, April 26th, at Lowell National Historical Park's Boott Cotton Mills Museum Complex. The event is free and open to all from 1pm to 5pm.
The LoWellness Festival will feature four main areas: health screenings, a performance stage, food and gardening demonstrations, and outdoor games and activities. Healthcare professionals from Lowell Community Health Center and Lowell General Hospital will offer free on-site health screenings for blood pressure, BMI, blood sugar and depression. The interactive performance stage will get everyone moving with performances from United Teen Equality Center, the Angkor Dance Troupe, Yoga Collective and many more performers. Stop and Shop, Boys and Girls Club of Greater Lowell and WIC will demonstrate healthy cooking. Get your hands dirty with Mill City Grows. Finally, enjoy active games for the whole family, walk along the riverway with Lowell Parks & Recreation and Lowell Parks and Conservation Trust. Earn your own National Park badge and certificate as part of National Junior Ranger Day.
Check out the event on our Facebook page - Lowell NHP Facebook Lowellness Event
The Boott Cotton Mills Museum will also be offering free admission on the day of the festival—come on in and check out the power and noise of the 88 looms in the 1920s weave room still operated by leather belts and still weaving cloth after nearly 100 years!
Paid parking for the event is available at the city garage at the corner of John and French Streets, or at the metered spaces in the surrounding blocks (mostly on Paige Street). Free parking is available at the Lowell National Historical Park Visitor Center (use 304 Dutton Street on your GPS). A free trolley shuttle will be taking visitors from the Visitor Center to the festival and back about every 30 minutes.
The LoWellness Festival is a free event presented by Lowell National Historical Park along with Lowell Community Health Center, Lowell General Hospital, Mass in Motion, Mill City Grows, Lowell Boys and Girls Club, Angkor Dance Troupe, City of Lowell Parks and Recreation, Lowell Parks and Conservation Trust, WIC/CTI, YWCA, UTEC and Stop & Shop Supermarkets. Check out all 27 participating organizations and lots more fun and healthy activities!