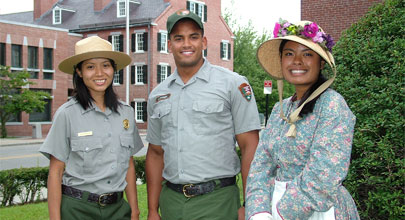 News Release Date:
August 3, 2011
Contact: Amy Glowacki, 978-970-5024
Contact: Phil Lupsiewicz, 978-275-1705
Lowell, MA -Imagine…….it is 1797 and young men and women ages 18-22, from diverse backgrounds, set forth on their maiden voyage aboard a three-masted, square rigged East Indiaman from Salem Massachusetts bound to the port of New York Harbor.This story was common from the 1600s-1800s.But what if this voyage could happen today? Can there be a more exhilarating way to meet the Youth Agenda for America's Great Outdoors?That and more can happen as part of this Youth Journey on the High Seas.
The National Park Service tall ship Friendship of Salem will depart from Salem, MA for New York, NY on Sunday, August 7 with a crew of volunteers, NPS staff and youth, from across Massachusetts, including three from Lowell. They are spending 2-3 days at sea, sailing to New York City where the young people will join a Youth Summit with their peers from New York City and Baltimore, MD.
Here's a look at the team from Lowell who'll be heading out August 7th.

Victoria Vann, Park Guide.
Victoria is a 2009 graduate of Lowell High School. She is a sophomore political science major and German language minor at the University of Massachusetts Lowell. She is beginning her third season as a seasonal park employee at Lowell National Historical Park. Victoria was also a member of the park Youth Theater Program where she presented formal and informal interpretive programs for park visitors.
Victoria is one half of a violin/guitar/vocals duo that performs for museums and women's functions around Lowell. Victoria is active in her church. She attends services every weekend as it is a time for her to worship and be with family. Her church does mission work for people in Cambodia and Victoria finds strength in making a difference in other people's lives.

Richard Hansen, Electrical apprentice.
Fluent in both English and Spanish, Rich plans to complete his degree in business and become a licensed electrician. When not traveling with SCIP, Rich will work at Lowell National Historical Park as an electrician apprentice helping with some exciting green energy projects such as the installation of wind turbines at the maintenance facility.
Rich first worked at the park as part of the Greater Lowell Regional Vocational Technical High School Electrical Co-op Program. He spent the past two summer seasons working in the Maintenance Division. Rich helped to install the solar electric system at the Boott Cotton Mills facility. Rich is working towards a degree in Energy Management at Mount Wachusett Community College.
Saoran Roeuth Administrative Assistant
Saoran is the first SCIP intern to become a permanent employee in the National Park Service. Saoran graduated in May from Middlesex Community College with a certificate in paralegal studies.She also attended Lowell High School and University of Massachusetts, Lowell. She is fluent in Khmer and is a member of Beta Gamma Sigma, the international honor society for excellence in business studies. Saoran has worked with Lowell National Historical Park in the unique position as a park aide. Hired in 2007 she was one of the first students hired in this position not only to gain experience working at park sites, but to conduct boat tours and play traditional Cambodian games at the annual Southeast Asian Water Festival. A natural leader, Saoran served as a youth facilitator for the UMass Lowell Center for Family, Work and Community River Ambassador Program from 2005 through 2007. Working with 15 Lowell High youths interested in educating the community about the environment, Saoran assisted the program coordinator, planned and conducted weekly meetings, and organized trips and activities.
For more information on the Lowell crew of Friendship Sails! NYC, and an opportunity to arrange for an interview, please contact Mass Youth Program Coordinator, Amy Glowacki, Lowell National Historical Park978-970-5024.amy_glowacki@nps.gov
The youth will be live blogging and sharing video of their journey to New York City. Follow us at:
Wordpress: www.friendshipnps.wordpress.com
flickr: www.flickr.com/photos/friendshipnps/
Twitter: Twitter.com/friendshipnps