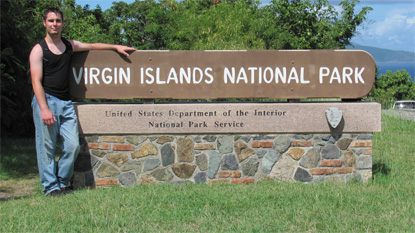 News Release Date:
December 19, 2011
Contact: Phil Lupsiewicz, 978-275-1705
Lowell, MA - Cody Thurlow, a senior coop student from Lowell, spent 10 days working on electrical projects at the Virgin Islands National Park.Charlie Raye, Utility Supervisor at Lowell National Historical Park asked Cody to be his assistant for a 10 day detail updating electrical systems in park housing.Projects included running wire mold, installing a new electrical panel, outlets and ceiling fans, cutting out old wiring and installing a new water pump that broke when he was there.
Cody states that the experience was "Awesome, and a lot of hard work.It takes an entire day to get your supplies.You have to travel by boat to another island.It was difficult.And it takes a while to get used to the heat and humidity."He enjoyed meeting new people.He also hiked up the Caneel Trail. The view was beautiful and he could see everything.Cody said he had "never seen the water that blue. It is totally different than the ocean around here."He is ready to go back on vacation and wants to explore other national park sites.
Cody is working towards his Journeyman Electrician license at Greater Lowell Technical High School in Tyngsboro, Massachusetts.Cody is a member of the Trades Skills Program a cooperative education partnership between Lowell National Historical Park, the high school and Community Teamwork, Inc .As part of his education Cody alternates his time between school and the park.He spends a week in the classroom and alternately is employed forty hours a week at the park gaining trades experience as he works alongside NPS skilled maintenance staff. Trades Skills also students receive additional training and development opportunities through exposure to NPS historic preservation and cultural resource management practices.

More information from the Lowell Sun.