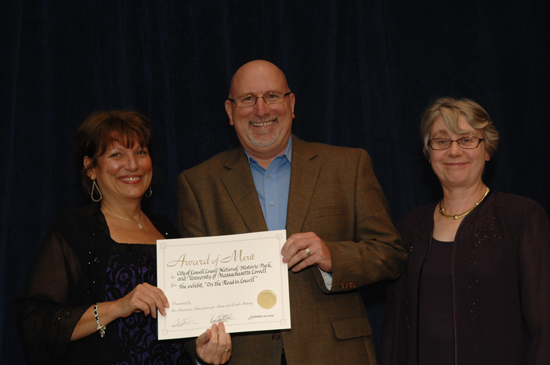 News Release Date:
October 15, 2008
Contact: Phil Lupsiewicz, 978-275-1705
Lowell, MA. In recognition of the importance and excellence of the 2007 museum exhibition on Lowell native Jack Kerouac and his legendary "On the Road" scroll manuscript, the American Association for State and Local History (AASLH) announced that the City of Lowell, the Lowell National Historical Park and the University of Massachusetts Lowell are the recipients of the Award of Merit.  
The award, now in its 63rd year, is the most prestigious recognition for achievement in the preservation and interpretation of state and local history.
"This award signifies the national impact of last year's Kerouac exhibit at the Boott Mills Museum," said Paul Marion, UML executive director of community outreach and a member of the Kerouac project planning team, along with UML Prof. Hilary Holladay, director of the Kerouac Center for American Studies. "This was a classic Lowell partnership effort with our colleagues at the Park and City," added Marion.
David Blackburn, Chief of Cultural Resources and Programs at Lowell National Historical Park accepted the award at the AASLH annual meeting which was held in Rochester, NY, September 12, 2008.  The award recognizes the work of all the partners in this quality exhibit and diversity of partnerships this exhibit required.   Beyond the physical centerpiece of the exhibit, the original Kerouac "On the Road" scroll, numerous programs and publications were devised and presented to the more than 25,000 people who attended the 30 related events, from poetry readings and concerts to panel talks and tours of Kerouac sites.