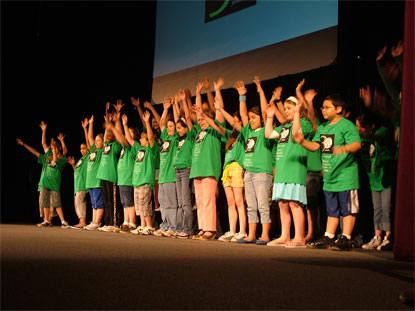 News Release Date:
June 24, 2008
Contact: Phil Lupsiewicz, 978-275-1705
On Friday, June 6, The Pyne Arts Singers from Lowell's J. G. Pyne Arts Magnet School sang their adaptation of "We're All in This Together" at the conclusion of a commissioned film and live performance production celebrating Lowell National Historical Park's 30th Anniversary.  Over 400 attendees filled the Lowell Memorial Auditorium at this event hosted by The Lowell Plan. They enjoyed breakfast, viewed the feature program, and heard from guest speakers whose connections to the city and the park span the 30 years of accomplishments and a core dedication to the first urban national park.
Comments by Lowell City Manager Bernie Lynch and Mayor Bud Caulfield reflected upon the city's progress in the 30 years since the creation of the National Park.   Superintendent Michael Creasey acknowledged the past as he held a copy of the New York Times announcing this new national park in June 1978.  Creasey then outlined the then-future directions the park was engaged with from urban park issues to the industrial landscape which shaped the city. He also highlighted innovative endeavors with partners and collaborators as part of prospective preparations for the next thirty years. Senator John Kerry joined the program via a live phone link from Washington and praised the work of the Park along with the city government as a model of cooperation that will be necessary for the nation to develop as we all work to a sustainable future. Kerry then introduced Congresswoman Niki Tsongas. It was her husband, Paul Tsongas,' push in Congress that shepherded the legislation creating the park on June 5, 1978. The Congresswoman acknowledged the efforts to bring the park to creation as well as the committed work of the Park.  Tsongas announced the "Paul Tsongas Center" expanding on the successful Tsongas Industrial History Center to incorporate research, civic engagement, and leadership development, along with enhanced partnerships. Paul Marion concluded the morning's program with a poem he authored, "A Higher Level of Notation", considering Lowell, its history, and change. 
The report, "Lowell National Historical Park: 30 Years of Preservation and Innovation for Future Generations" is available online at https://www.nps.gov/lowe.