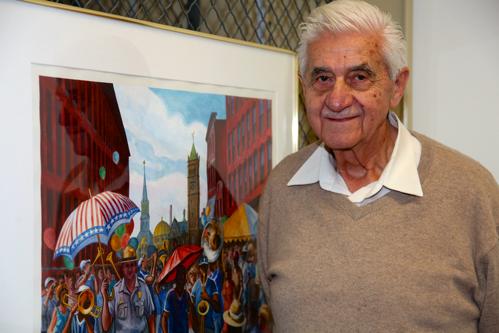 News Release Date:
November 26, 2013
Contact: David Blackburn, 978-970-5055
Contact: Phil Lupsiewicz, 978-275-1705
A reception to showcase the work of Vassilios "Bill" Giavis, Lowell National Historical Parks first Artist In Residence will be held on Saturday, December 7th,2013 from 2:00pm – 4:00pm. The show will run through February 17, 2014 at the Boott Cotton Mills Museum.
Bill Giavis is a native Lowellian and has been painting for over 25 years. Embracing his native city, Bill uses the cityscapes and Lowell to inspire his work. Much of what Mr. Giavis represents through his art connects to Lowell's rich history as an industrial city and the stories, sites, and places preserved by Lowell National Historical Park. The show at the National Park will represent his career as a painter with a selection of oil paintings, water colors, and prints. This show marks the completion of Bill's tenure as Lowell National Historical Park's first artist in residence. Mr. Giavis maintains a studio at the Brush Gallery and Art Studios in downtown Lowell.
The reception is free to attend and will be held at the Boott Cotton Mill Museum at 115 John Street in downtown Lowell. The art exhibition in the Boott Reflection Room is free. If you would like to also visit the Museum, there is a fee. Parking is available at the City's Joseph Downes Garage (75 John Street) at the corner of John and French Streets.For information on the event, please contact David Blackburn at (978) 970-5055. For information on Lowell National Historical Park, visit our web site at www/nps.gov/lowe, or call 978-970-5000.