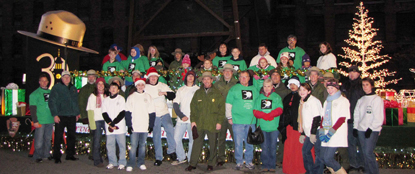 News Release Date:
December 3, 2008
Contact: Phil Lupsiewicz, 978-275-1705
LowellNational Historical Park News Release
For Immediate Release
Contact: Philip Lupsiewicz (978) 275-1705
December 1, 2008
Lowell National Historical Park Celebrates 30th Anniversary at the City of Lights Parade
Lowell, MA.  Thousands braved the cold as Lowell's annual City of Lights Parade and Holiday Art Stroll concluded in front of City Hall for the lighting of over 100,000 lights.  Lowell National Historical Park participated in the day-long series of events starting with "The Trolley Express", a special program for families.  Park Rangers gathered families on the park's trolley for a special reading of the Chris Van Allsburg holiday classic, "The Polar Express" and a ride through the City.   Each participant received a bell as featured in the story and hot chocolate warmed everyone at the conclusion of the program.  So popular was "The Trolley Express" an additional program was added to accommodate the heavy demand.
As the afternoon turned to dusk, the City of Lights parade began.  Over 15 different floats representing numerous city and regional agencies were present as were marching bands from around the region.  Lowell National Historical Park's float, a salute to the park's 30th Anniversary, took the prestigious "Mayor's Award" for best float.  Planned, designed and fabricated by park employees, the float was the feature of the Park's marching contingent of over 30 strong.  Employees and volunteers representing all aspects of the park's operations  along with their families marched the downtown parade route waving to the enthusiastic audience along the way.
For complete coverage of the parade, visit the Lowell Sun for pictures and a video.   http://www.lowellsun.com/ci_11107023?IADID=Search-www.lowellsun.com-www.lowellsun.com