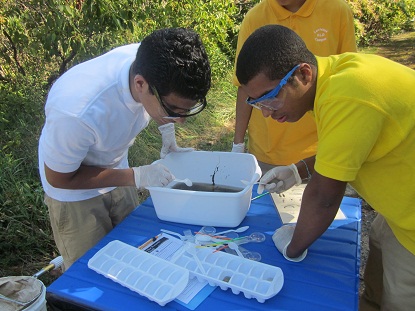 News Release Date:
May 10, 2013
Contact: Rebecca Lofgren, 978-970-5093
Contact: Phil Lupsiewicz, 978-275-1705
Lowell, MA- The Tsongas Industrial History Center, Lowell National Historical Park's educational partnership with the University of Massachusetts Lowell's Graduate School of Education, has been selected to receive a 2013 "Ticket to Ride" grant from the National Park Foundation (NPF), the official charity of America's national parks. The Ticket to Ride program, supported by a $500,000 grant from the Disney Worldwide Conservation Fund, helps students explore the outdoors by providing transportation and program support to national parks around the country.
"Providing the means for America's youth to experience all that our national park system has to offer is imperative," said Neil Mulholland, president and CEO of the National Park Foundation. "Disney's support has helped make it possible for us to engage thousands of young people in life changing park experiences, and ultimately inspiring the next generation of park enthusiasts."
Now in its second year and with continued support from the Disney Worldwide Conservation Fund and Disney Friends for Change, "Ticket to Ride" provides financial resources for transportation, in-park educational programming, and meals that make national park field trips possible for schools across the country.The grant from Disney will help more than 60,000 students to experience location-based learning in their local national parks this year.Disney is committed to connecting kids to nature, ensuring they appreciate and understand the beauty and value of our natural resources. 
The "Ticket to Ride" grant will fund visits to the Tsongas Industrial History Center for students from Lowell, Lawrence, and Haverhill. Students in grades 7-10 will participate in the "Bridging the Watershed" program, during which they conduct water quality tests and investigations of aquatic insects to assess the health of the Merrimack River watershed.Students benefit from the program by building their life science/ecology knowledge to improve their scores on the state's standardized tests. "Bridging the Watershed" also encourages awareness and stewardship, developing students' comprehension of where their water comes from and the importance of protecting their community's ecosystem.

"This grant provides local school districts with access to the Park to participate in an outdoor educational program, when they otherwise would not be able to come due to financial constraints," said Park Ranger Rebecca Lofgren. "The students now have the opportunity to learn how to detect the water quality of the Merrimack River watershed, which is the source of drinking water for their households."
For many students, the Ticket to Ride field trip will be their first visit to a national park.Recognizing that once in the parks a world of experiential learning opens up, the National Park Foundation and the National Park Service are dedicated to providing this critical access to the parks. Through these field trips, young people discover their natural, cultural and historical heritage, participate in volunteer and service-learning activities, enjoy recreational opportunities and most importantly, begin a lifelong relationship with their national parks
In addition to the grant, Disney's Friends for Change - a program that inspires kids and families to make a positive impact on their world by helping people and the planet - developed a public service announcement (PSA) that will air on Disney Channel and Disney Online.The spot encourages kids and families to explore the outdoors, whether at a local, state, or national park.Disney Friends for Change also created an online action kit (disney.com/friends) that helps families plan a park visit in four easy steps and provides ideas on park activities ranging from hikes to wildlife exploration.
For more information about Ticket to Ride, corporate partners and ways to support this and the other exceptional National Park Foundation programs, go to www.nationalparks.org.
###
ABOUT THE NATIONAL PARK FOUNDATION
You are the owner of 84 million acres of the world's most treasured memorials, landscapes, ecosystems, and historic sites -- all protected in America's more than 400 national parks. Chartered by Congress, the National Park Foundation is the official charity of America's national parks. We work hand in hand with the National Park Service to connect you and all Americans to the parks, and to make sure that they are preserved for the generations who will follow. Join us in supporting your national parks -- this is your land. www.nationalparks.org.
 
Join us - This is Your Land. www.nationalparks.org
FACEBOOK https://www.facebook.com/nationalpark
TWITTER https://twitter.com/goparks