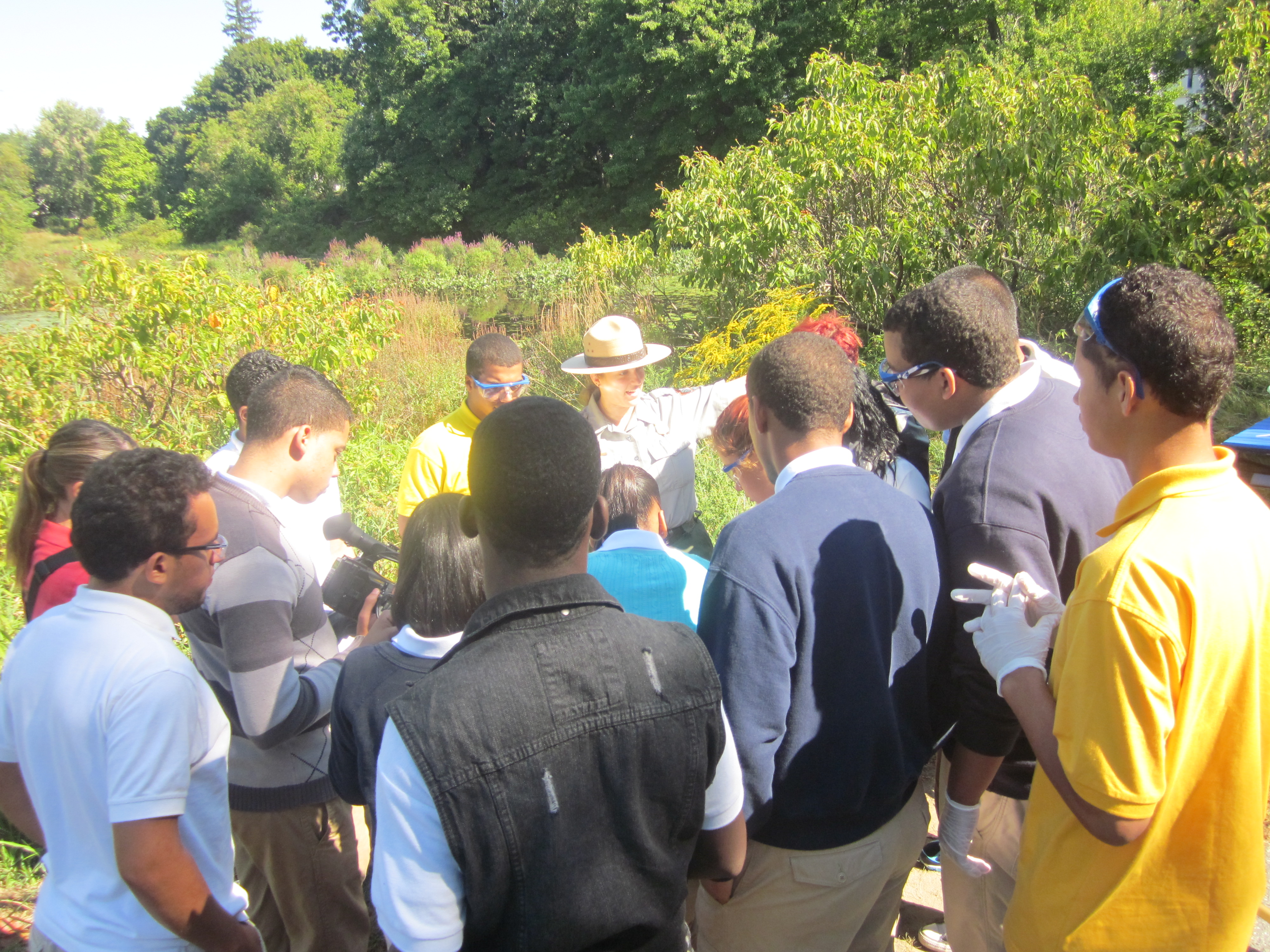 News Release Date:
October 4, 2012
Contact: Phil Lupsiewicz, 978-275-1705
Dozens of students recently turned their local watershed into a science lab as part of a pilot program atLowell National Historical Park(NHP). High school students from Lawrence High School's urban ecology and chemistry classes spent two days in September testing the waters of the Merrimack River and searching for macro invertebrates in another body of water, Claypit Brook, This fieldwork was part of a pilot project made possible by a "Bridging The Watershed" grant received by Lowell NHP, in partnership with University of Massachusetts Lowell, at the Tsongas Industrial History Center. The scientific experience did not end at the water's edge; the data that the students collected were then brought back to the school, discussed further, and incorporated into the curriculum.
The Lawrence Eagle Tribune, the local newspaper, even featured this special program on their front page.. Teacher Rebecca Veilleux stated that the program fit perfectly with her curriculum in the classroom. She noted, "Today is a training day for them to become environmental stewards. It's a chance for them to learn the skills needed to get involved in the community."
TheBridging the Watershedprogram in the Northeast Region(NER)  is a pilot of an existing program run in the National Capital Region (NCR) through the Alice Ferguson Foundation in association with NCR and local school districts. In addition to Lowell NHP,Assateague Island National Seashore, and Upper Delaware Scenic and Recreational River have piloted this program with the assistance of the NER. Bridging the Watershed aims to promote student academic achievement, personal connections with the natural world, lifelong civic engagement, and environmental stewardship through hands-on curriculum-based outdoor studies in national parks and public lands.