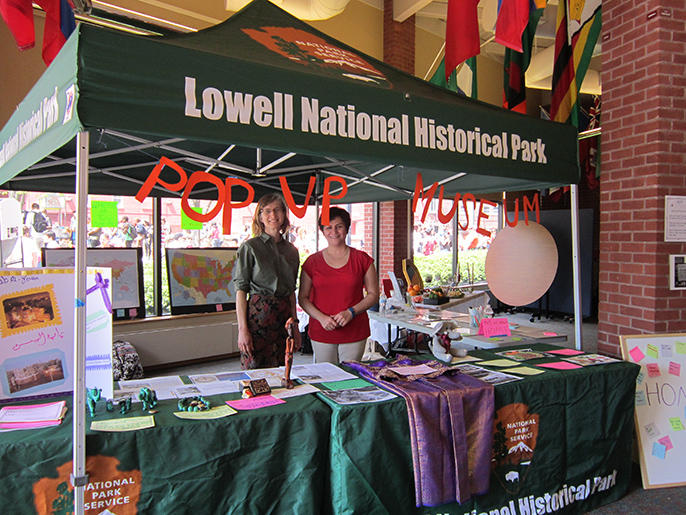 News Release Date:
April 11, 2016
Contact: Phil Lupsiewicz, 978-275-1705
Lowell, Massachusetts. —  In celebration of the National Park Service's 100th birthday, Lowell National Historical Park is Bringing the Park to the People. Join us at a co-hosted series of community outreach events at neighborhood parks. You'll find pop-up museums to discover more about this national park, neighborhood tours co-hosted by Dick Howe through Lowell Walks along with local residents, Made in Lowell's Trailer Chat will engage community members in a dialogue of the meaning of being a "Lowellian," and a community weaving project made of fabric contributed by participants as residents of this historic city.
We invite community members to bring a strip of fabric from their home expressive of who they are, their family, their culture and/or their heritage. At each event, participants will weave their fabric together with those from other community members. This assembled collection will then be incorporated with other pieces from series events throughout the City of Lowell. The community weaving project will be on display at the Lowell NHP Founder's Day event on Saturday August 27, 2016. The project will then travel throughout the city through 2017. The goal of the project is to represent the rich history and diversity of the communities here in Lowell and celebrate the hometown of Lowell National Historical Park.
April 23 New Year Celebration  Clemente Park
from 11am-4pm  803 Middlesex St.
May 21  Friends of Tyler Park  Tyler Park
from 1pm-4pm  Highland Neighborhood 700 Westford St.
May 26 Peace in the Park  Harmony Park,
3pm-6pm Acre Neighborhood  Marion &Cross St.
June 1 Jambraree  Jackson Street.
from 4-7pm Hamilton Canal District
June 11 ACRE Festival North Common Park
from 11am-4pm  413 Fletcher St.
August 20  Mill City Grows  Eagle Park
from 1 - 4 pm  Centraville Neighborhood  95 Jewitt St.
August 27 Centennial Founders Day Boarding House Park
from11 am-4pm  Event
September 10  Pawtucetville Citizens  Hawk Valley Farm
from 9-12pm  Council and Lowell Parks &  526 Varnum Ave
Conservation Trust   Pawtucetville Neighborhood
September 24  Rotary Park Gardeners  Rotary Park
from 10am - 4pm National Public Lands Day 16 Richmond St.
 Back Central Neighborhood
To learn more about this and other park offerings during this centennial year of the National Park Service, including the Steampunk Weekend, Junior Ranger program, Boott Cotton Mills Museum, Mill Girls and Immigrants Exhibit, ranger-led tours, and upcoming special events stop by the Visitor Center at 246 Market Street, or contact Lowell National Historical Park at (978) 970-5000, or visit www.nps.gov/lowe .
- NPS -