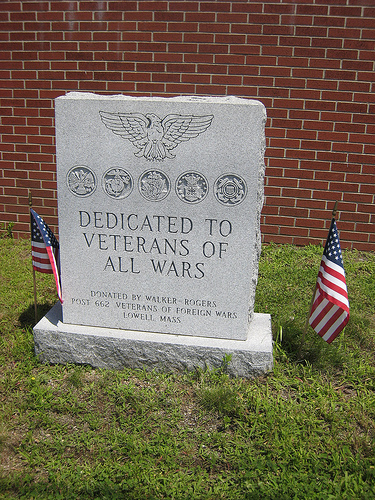 News Release Date:
November 5, 2013
Contact: Phil Lupsiewicz, 978-275-1705
Lowell, MA –In honor of Veterans Day, Lowell National Historical Park will be waiving museum fees for all visitors at the Boott Cotton Mills Museum on Saturday, November 9, through Monday, November 11, 2013.Lowell National Historical Park would like to invite our communities to visit this weekend to learn more about the history, heritage and people of Lowell.

Lowell is well known for textile products. However, Lowell's factories and mills produced products from ammunition cartridges to inflatable buildings used by our modern military.Veterans can share their stories with other visitors and park rangers and share their experiences in our Reflections Room at the Boott Cotton Mills Museum.
The Boott Cotton Mills Museum tells the story of America's Industrial Revolution, labor, and the rise, fall, and rebirth of Lowell. The museum includes an operating 1920's weaveroom, is currently open daily from 9:30 am to 5:00 pm.Visitors are encouraged to begin their visit at the National Park Visitor Center, 246 Market Street.

For more information about Lowell National Historical Park, visit www.nps.gov/lowe or call 978-970-5000. For information about national parks nationwide that are participating in fee free events this weekend, please visit https://www.nps.gov/findapark/feefreeparks.htm.