Date:
December 19, 2007
Contact:
Phil Lupsiewicz
, 978-970-1705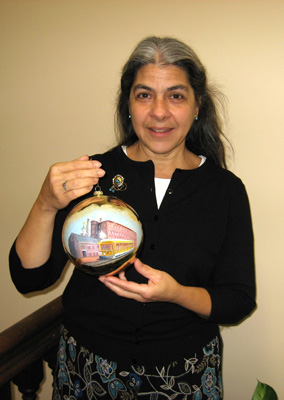 Lowell National Historical Park Contributes to the White House Christmas Tree
Lowell, Massachusetts.  Lowell National Historical Park has contributed a one of a kind, hand painted ornament as part of this year's official White House Christmas tree.  "Holiday in the National Parks" has been selected as the theme highlighting the majesty, history, and diversity of the country's 391 National Park Service sites. "It is an amazing honor for the National Park Service to be selected as the theme for the White House holiday decorations by the President and Mrs. Bush," said National Park Service Director Bomar. "Mrs. Bush is the best champion for our national parks, and the beautiful decorations in each state room showcase the natural and historical treasures found in parks throughout the country."
Lowell National Historical Park employee Ellen Frost designed and created the park's holiday ornament, now gracing the tree in the Blue Room at the White House.  Ms. Frost, a graduate of the School of Museum of Fine Arts at Tufts University worked with park staff selecting appropriate imagery to incorporate onto the 6 inch plastic sphere.  Using acrylic paints, Ms. Frost created two iconic images of Lowell, the Boott Cotton Mills Museum with a park trolley on one side and the Pawtucket Falls on the other side. "It was such a thrill to be asked to create this artwork, which will become part of President Bush's personal collection," said Ms. Frost when she returned from a private reception at the White House held for artists, their guests, and the volunteers who decorated the White House for the holidays. 
"National Parks commemorate the people, places, and events that define the American experience," said Secretary of the Interior Dirk Kempthorne. "I am so appreciative of President Bush's efforts to recognize the important role of national parks in American society. Our country will celebrate the 100th anniversary of the National Park Service in 2016 and the President has been instrumental in establishing a Centennial Initiative to prepare the parks for the next century."
Lowell National Historical Park's ornament can be viewed at https://www.nps.gov/pub_aff/whho2007/WebPage-Thumb.00004.html
The White House's web page on this holiday display is available at http://www.whitehouse.gov/holiday/2007/. Click on the following additional links for further information:
"2007 Holiday Program" at upper right will take you      through a narrative on the full display

"2007 Holiday Ornaments from the Fifty States" at      center right will take you to a photo essay containing a sampling of the      ornaments submitted (one from a park in each state)

"Holiday in the      National Parks," just below the link to the ornaments, will take you to      some historic photographs of Presidents and First Families in the national      parks

"Fact Sheet: White House Holiday Decoration" at      bottom provides details on all aspects of the decoration.
Photos available upon request
###