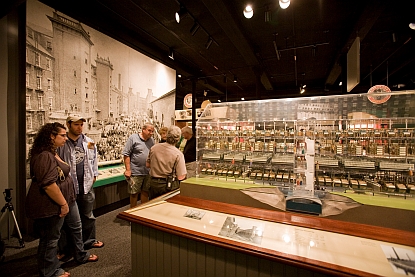 News Release Date:
September 19, 2013
Contact: Phil Lupsiewicz, 978-275-1705
Lowell, MA - Lowell National Historical Park will offer free admission to the Boott Cotton Mills Museum, 115 John Street, Lowell, MA, all day on Saturday, September 28 in conjunction with National Public Lands Day.Visitors of all ages are welcome!
In addition to free admission to the Boott Cotton Mills Museum, Lowell NHP invites families to Your City Saturdays at the visitor center from 11 a.m.-12 noon for a morning of free arts and crafts, stories, and songs. From 1-2 p.m., join a ranger for a fun songwriting workshop and hear your national park stories in song at the Boott Cotton Mills Museum. Stick around for "This Land is your Land"- a singalong celebrating National Public Lands Day from 2-2:30 p.m. In addition, families are invited to join a trolley tour and play "Suffolk Mill Bingo" at the River Transformed Exhibit. The free trolley tour is one hour and 15 minutes and meets at the Boott Cotton Mills Museum at 2:30 p.m. Make a day of it and discover the history, power, and fascinating stories behind Lowell's textile history.
On Saturday, September 28, 2013, volunteers across the United States will help restore the beauty and vitality of our public lands as part of the 20th annual National Public Lands Day. More than 170,000 volunteers are expected at more than 2,000 sites in communities and parks around the nation.
This year's national events are focused on our national commitment to:
Supporting our public lands,

Spending time outdoors, and

Being more active
For information about national parks nationwide that are participating in fee free events during these same days, please visit http://www.publiclandsday.org/.
In Lowell, Start exploring at the Visitor Center, 246 Market Street, Lowell. For more information about Lowell National Historical Park visit https://www.nps.gov/lowe or call 978-970-5000.