Lowell National Historical Park and National Public Lands Day Welcome to Centennial Volunteer Ambassador, Alyck Horton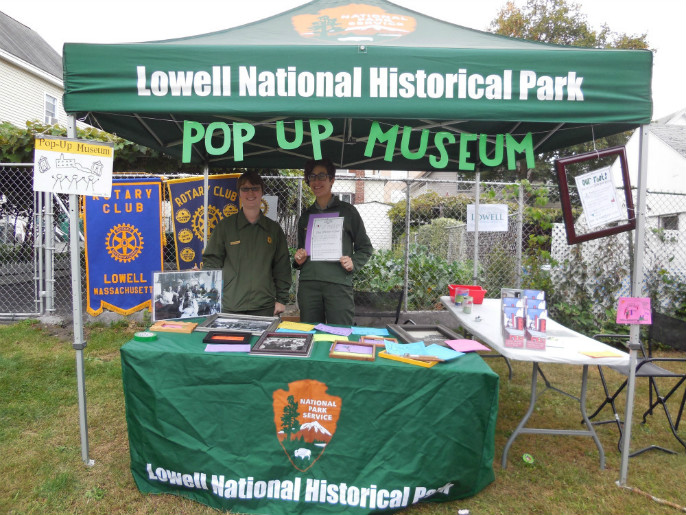 News Release Date:
September 21, 2015
Contact: Phil Lupsiewicz, 978-275-1705
LOWELL, MA - Alyck Horton, Portland, Oregon native and alumnus of Oregon State University, will help prepare Lowell National Historical Park for the National Park Service's 100th anniversary in 2016. Horton is one of 70 energetic, young Centennial Volunteer Ambassador interns recently selected to spend the next year connecting local communities to parks through volunteer group service opportunities. "Lowell National Historical Park welcomes Alyck as Centennial Volunteer Ambassador. His enthusiastic focus on building community engagement through volunteers directly ties in with the Park's hopes for the Centennial year," noted Superintendent Celeste Bernardo.
 A key event is this Saturday, September 26, on National Public Lands Day (NPLD). Pitch-in with the park and partners Lowell Canalwater Cleaners and Lowell Parks &Conservation Trust at a cleanup on the Concord River. Volunteers will meet on Saturday at 9:00am at the Davidson Street lot, (off of Merrimack Street). The cleanup will take about three hours. The goal will be to clean up the Concord riverbanks near Middlesex Community College. In addition, Lowell Parks &Conservation Trust will be there, doing habitat restoration (weeding, pruning, etc). Open to all, volunteers should consider bringing boots and gloves.
On NPLD you are also invited to join Lowell NHP staff at Mill City Grows' Harvest Festival on the North Common to "Find Your Park!" From 1pm-5pm the park will host a Pop-Up Museum exploring the history of parks in Lowell from the North Common to Lowell National Historical Park to your favorite neighborhood spot. Why are parks important to you? Come share your favorite park memories, chat with your neighbors, enjoy outdoor games from Lowell's history, and take a special #FindYourPark photo in our giant photo frame.
Also on Saturday, in celebration of National Public Lands Day, Boott Cotton Mills Museum, 115 John Street is fee free. Across the country, national park entrance fees are being waived for NPLD. In Lowell, that includes the Museum, open from 9:30 am to 5:00 pm. 
"The National Park Service's Centennial celebration will focus as much on our future as on our past," said National Park Service Director Jonathan B. Jarvis. "We are excited that young people, including our Centennial Volunteer Ambassadors, are stepping up as the next generation of conservation leaders. I know this opportunity will enable them to form lasting connections to national parks and the natural world. I also know that their contagious passion will inspire many others to do the same."   
Last updated: September 21, 2015