Lowell, In Our Own Words: Creative Writing Workshop Series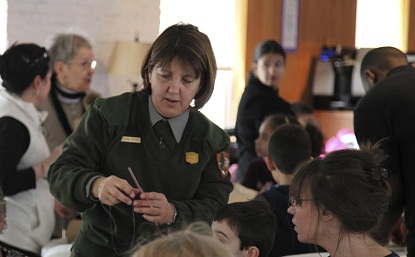 News Release Date:
June 21, 2013
Contact: Resi Polixa, 978-970-5025
Contact: Phil Lupsiewicz, 978-275-1705
LOWELL, MA —Everyone has a story. From19th century mill-worker Lucy Larcom to 20th century Jack Kerouac to the current day, many Lowellians have recorded their experiences and wrote themselves into history. Come share yours! How do you experience Lowell?
Discover the words of these local writers on their experiences of the city and engage in conversation about the past and present. Express your own history of Lowell through creative writing! Every Thursday at 12:30-2:00 p.m. from July 11 to August 22 (except August 1), join a ranger at Lowell National Historical Park for a series of creative writing workshops.
Our workshops will focus on our own experiences of women's history (7/11 and 7/18), the environment (7/25 and 8/8), and immigration (8/15 and 8/22). Workshops are free, and writers of all experience levels and genres welcome. All workshops will start at the Boott Cotton Mills Museum, no reservations necessary.
For more information about the Boott Cotton Mills Museum and Lowell National Historical Park visit www.nps.gov/lowe or call 978-970-5000. 
Last updated: February 26, 2015