Date:
March 12, 2013
Contact:
Maggie Holtzberg
, 978-275-1719
Contact:
Phil Lupsiewicz
, 978-275-1705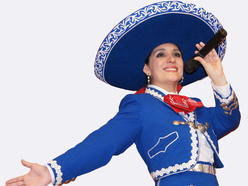 Lowell, Massachusetts. In celebration of International Women's Month, the Lowell Folklife Series is pleased to present Mexican vocalist and dancer, Veronica Robles.Known affectionately by fans as La Mera, Mera (The Real One), Verónica Robles is widely recognized as the most authentic representative of Mexican music and culture in New England.
Verónica Robles has Mexican music in her blood. She first learned to sing from her grandmother whom she would spend hours with in the kitchen as she prepared dishes such as chicharrón prensado con calabazas, elote y nopas (dried pork with squash, corn, and cactus.) The corridos, rancheras, and huapangos dated back to her grandmother's childhood in the early 1900s. It was in Mexico City's Plaza Garibaldi, the cradle of mariachi music, where Verónica was introduced to the mariachi group led by El Chiquis. She began working with his group at age 15, learning hundreds of songs and musical styles from these elder musicians. She also travelled to many towns within Mexico including San Juan del Rio, Queretaro, and Irapuato, to sing at traditional fiestas. While traveling, Robles studied the way people spoke, their values, customs, and music, gaining insight into Mexico's rich diversity.

In 1992, Robles left her home country for New York City to pursue her life as professional mariachi musician, producing albums and performing in such well-known venues as Lincoln Center and Carnegie Hall. Robles has made Massachusetts home since 2000, where she specializes in performing for young audiences through school assembles, residencies, and dance workshops. Her television show, Orale con Verónica has been on the air since 2002.
The Lowell Folklife Series program is free & open to the public at 7:30 pm Saturday, March 23, 2013, at the Lowell National Historical Park Visitor Center, 246 Market Street, Lowell, MA. For information on the event visit http://blog.massfolkarts.org/blog/index.php/2013/03/veronica-robles-her-mariachi/or call Maggie Holtzberg at 978-275-1719. For more information about Lowell National Historical Park visit www.nps.gov/lowe or call 978-970-5000.