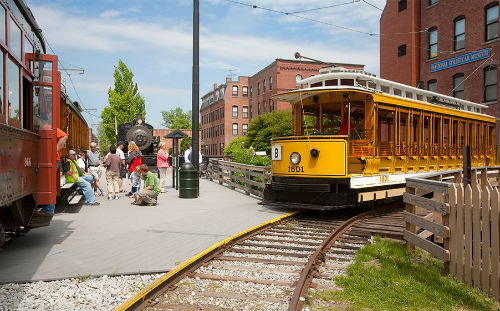 News Release Date:
April 10, 2014
Contact: Phil Lupsiewicz, 978-275-1705
Lowell, Massachusetts. Celebrate National Park Week at Lowell National Historical Park. The week begins on Saturday, April 19 and Sunday, April 20 with free admission to the Boott Cotton Mills Museum. Come experience the working weaveroom, and discover the stories of the people who came from all over the world to build this city and work in its factories.
Celebrate the 30th Anniversary of Trolleys in Lowell with a free trolley ride across town. At 11:00am an extended ride leaves from the Visitor Center. Enjoy a free trolley guided tour at 2:30 leaving from the Boott Cotton Mills Museum. Take a photo with the conductor! See the City of Lowell from a different perspective.  
Throughout National Park Week join us for April Play-cation, a series of children's events that provide learning experience and fun through crafts and activities. Lowell Play-cation brings free family fun to local families during Massachusetts school vacation week, April 21-25, 2014. The complete schedule of events is now available at www.lowellkidsweek.org/april. All programs are free, but some require pre-registration, so please plan ahead.
Join us on Saturday, April 26 at 1:00-5:00 pm for the LoWellness Festival at the Boott Cotton Mills where the entire family can enjoy a performance stage, food and gardening demos, outdoor games and activities, and get free health screenings. Earn your own junior ranger badge at the National Park table as part of National Junior Ranger Day. Visit bit.ly/Lowellness for more information.
For more information about the park and its offerings, visit www.nps.gov/lowe or call us at (978) 970-5000. Park hours are 9:00am-5:00pm daily at the Visitor Center at 246 Market Street, and 9:30am-5:00pm for the Boott Cotton Mills Museum at 110 John Street. Free parking is available at the Visitor Center (Use 304 Dutton Street on your GPS).
National Park Week is celebrated throughout the country, and all parks that charge entrance fees will be offering free admission from April 19 to April 20. Many of the 401 National Park units will also be offering special programming during the week. For more information about National Park Week events in parks near and far, visit https://www.nps.gov/npweek.  
                         -NPS-