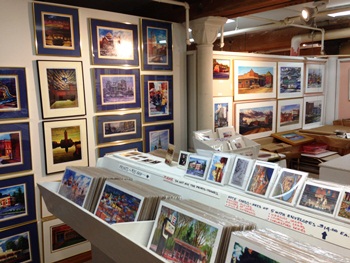 News Release Date:
September 5, 2013
Contact: David Blackburn, 978-970-5055
Contact: Phil Lupsiewicz, 978-275-1705
FREE WORKSHOPS
SEPTEMBER 14th & 28th, OCTOBER 12th & 26th
BOOTT COTTON MILLS MUSEUM - 10:00 AM - 2:00 PM
LOWELL, MA —Lowell National Historical Park will be offering four free workshops for artists in September and October, 2013. Bill Giavis, Lowell NHP's artist in residence, will be leading the workshops from 10:00 am to 2:00 pm on Saturdays, September 14 and 28 and October 12 and 26. The workshops are free but reservations are required. The workshops will be held on the 4th floor of the Boott Cotton Mill Museum in the lunch room of the Tsongas Industrial History Center. The space is accessed through the business entrance of the Boott Cotton Mills Museum at 115 John Street.

The workshops are for experienced artists that consider themselves intermediate or advanced in their skill set.Mr. Giavis will lead the workshop, offering instruction and advice in his area of expertise:structures and urban landscapes. Mr. Giavis paints his landscapes using photos of his subject matter and principally paints with watercolors. Participants are responsible for providing their own equipment. The medium used by the participant (charcoal, pastels, watercolor, acrylic, etc.) is their personal choice. Mr. Giavis will provide instruction and advice on visually expressing a building or urban landscape on paper or canvas.
Participants are not required to sign up for all four workshops for each is considered a single program.
Reservations are required and can be made at (978)970-5000. The classes will be held on the following Saturdays: September 14th, September 28th, October 12th, and October 26th.