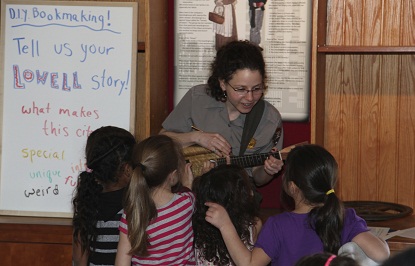 News Release Date:
June 12, 2013
Contact: Emily Levine, 978-970-5025
Contact: Phil Lupsiewicz, 978-275-1705
LOWELL, MA–Hang out with park rangers, get creative, and explore your city! Families are invited to Lowell National Historical Park -- Lowell's neighborhood national park -- for Your City Summer. Each Friday from June 21-August 16, ride the rails on a free trolley tour at 10AM, drop in for ranger-guided activities from 11AM-12PM, then stick around to complete an exciting Your City Challenge. Your City Summer will take place outdoors in the Lowell NHP Visitor Center Courtyard, with different activities each week.
Your City Summer is part of a year-round series of family programs that includes Your City Saturdays (October-April), Lowell Kids Week (February school vacation), and April PLAY-cation (April school vacation). These programs aim to inspire creativity in the next generation of National Park stewards, and to engage families in hands-on explorations of Lowell's unique stories, past, present, and future. Lowell played an important role as the country's first major planned industrial center in the 1820s, and continues to reflect cycles of creativity, industry, immigration, and innovative urban planning.
While you're in the city, make a day of it! Family-friendly activities at Lowell National Historical Park include canal boat tours, museum demonstrations, Lowell Summer Music Series kids' concerts, and trolleys.
Your City Summer Dates:
June 21 Discover Your National Parks
June 28 Tell Your Story
July 5 Fantastic Flags
July 12 Urban Naturalists
July 19 Map Your City
July 26 Music Makers
August 2 Power Producers: Wind & Water
August 9 Around the World in Cloth
August 16 Celebrate Water! Rivers & Canals
Where: Visitor Center outdoor courtyard, 246 Market Street (rain location inside the Visitor Center). The Visitor Center also offers information about many other park offerings and cultural attractions in Lowell. Your City Challenge activities are self-guided and take place at locations around the park.
Your City Summer is part of Lowell National Historical Park's kids' and families' programming planned for 2013. For more information, contact Emily Levine at (978) 275-1780/emily_levine@nps.gov. For more information about Lowell National Historical Park visit www.nps.gov/lowe or call 978-970-5000.