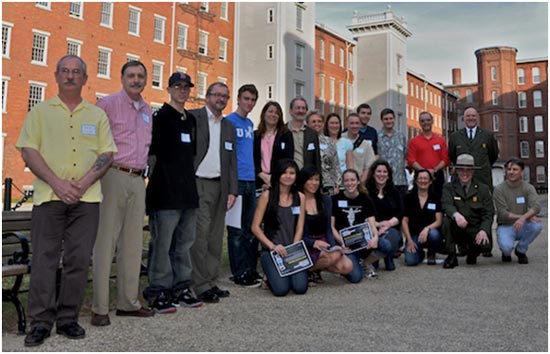 News Release Date:
March 30, 2010
Contact: Jonathan Parker, 978-970-5048
Contact: Phil Lupsiewicz, 978-275-1705
Park visitors from eight states and three foreign countries recently submitted 466 photographs documenting Lowell National Historical Park and the City of Lowell as part of the Park's inaugural photography contest. The Park utilized social media technology (Facebook, Twitter, Flickr) to help promote the contest, ultimately bringing an additional 4,378 unique visitors to the Park's website.  
Visitors ranging in age from thirteen to eighty-five years vividly captured a variety of photographs highlighting Lowell's historic, cultural and natural resources – from distinctive mill architecture to bald eagles floating over a frozen Merrimack River.  Edward DiCroce of Lowell won the Grand Prize with his photo "Evolve," a stunning depiction of a mill building reflection within the jagged ice of the historic Pawtucket Canal. Photography students at neighboring Lowell High School swept 1st, 2nd, and 3rd place in the "Youth" category with their images of mills, foliage, and green urban spaces. At present, the top twenty contest photos have been viewed online over 10,000 times.  
The Park celebrated the contest's successful conclusion by erecting a semi-permanent exhibit of photographs and hosting a reception attended by over 150 contest participants in the historic Boott Cotton Mill Museum. This contest, the first of its kind in Park history, encouraged regional photographers and artists to visit the Park and view its resources through a fresh "lens" from September 2009 to January 2010.  
Ranger Jonathan Parker organized the inaugural contest and hosted the gallery opening on March 20th, 2010.  Local judges and photography professionals Sharon Lowe, Meghan Moore, and Lance Keimig provided public critiques and commentaries of individual photos at the event.  Chief of Cultural Resources David Blackburn and ranger Jonathan Parker presented a short interpretive program on the historic role of photography across the National Park Service.  
The Park looks forward to announcing the start of the 2nd Annual Lowell Photography Contest later this year.
View the winning images and learn more about the contest
here
.