Date:
March 28, 2012
Contact:
Maggie Holtzsberg
, 978-275-1719
Contact:
Phil Lupsiewicz
, 978-275-18=705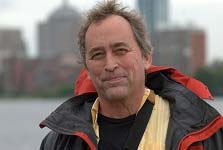 Lowell, MA-The Lowell Folklife Series invites you to a screening of the documentary film, Scenes From a Parish, with special guest, James Rutenbeck, the film's director. The film, shot in nearby Lawrence, captures the ethnic tensions of a working-class, multicultural Catholic parish in a hard-pressed former mill town. Filmed over four years, Scenes From a Parish explores the personal stories of a once mono-cultural Catholic parish as it struggles to reconcile the ideals of faith with the cultural realities of a globalized United States.In that sense, the film has relevance for communities all across this country.
Boston Globe film critic Ty Burr praises the film as a lucid documentary, "It raises more questions about the church's place in a changing world-and touches more emotions doing so-than any big-budget studio folderol."
Scenes From a Parish was originally shown on the PBS series, Independent Lens. Filmmaker James Rutenbeck has won numerous awards including a National Association of Film and Digital Media Artists Insight Award of Excellence; Alfred I. DuPont-Columbia Journalism Award; LEF Foundation Moving Image Fund Grant; Sundance Institute Documentary Fund Grant; Stevens Foundation Grant; Mass Humanities Media Grant; Catherine McCarthy Memorial Trust Grant. He is a three-time recipient of an Artist Fellowship from the Massachusetts Cultural Council.

The free program will take place at the Lowell National Historical Park Visitor Center, 246 Market Street, Lowell, Massachusetts, at 7:30pm on Thursday, April 11, 2012.

This free program is part of the Lowell Folklife Series and is co-sponsored by Lowell National Historical Park and the Lowell Film Collaborative. For more information, visit www.nps.gov/lowe or call 978-970-5000.