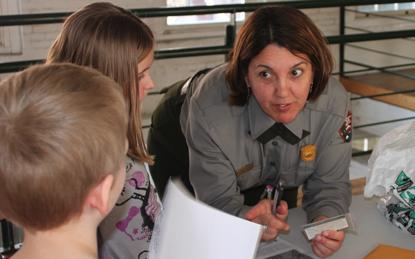 News Release Date:
February 5, 2013
Contact: Emily Levine, 978-970-5025
Contact: Phil Lupsiewicz, 978-275-1705
Lowell, Massachusetts. - Learn a new skill, play with your creativity, and get active at Lowell Kids Week 2013! Lowell Kids Week is an annual festival of free family fun that takes place during February school vacation, February 18-23, 2013.Events are hosted by seventeen partner organizations and take place at locations throughout Lowell.

Lowell Kids Week consists of nearly fifty free programs and serves over 2,000 local kids and their families, and builds connections among a diverse group of local organizations, agencies, businesses, and our community. With programs hosted by the American Textile History Museum, Angkor Dance Troupe, Enterprise Bank, Girls Incorporated of Greater Lowell, Lowell Community Health Center, Lowell Film Collaborative, Lowell National Historical Park, Lowell Parks & Conservation Trust, Lowell Recreation Department, Lowell Police Department, Lowell Senior Center, Lowell Telecommunications Corporation, Middlesex Community College Multicultural Programs, Mill City Grows, New England Quilt Museum, Pollard Memorial Library, and the Tsongas Industrial History Center, Lowell Kids Week 2013 is sure to offer something for everyone!
This year, families will enjoy an exciting variety of new programs, as well as the popular favorites they look forward to all year.Free ice skating and swimming, courtesy of the Lowell Recreation Department, offer a great way to get active. For outdoorsy kids, check out a seed planting workshop from Mill City Grows and a nature walk with the Lowell Parks and Conservation Trust! Want to learn a creative new skill? Try fabric stamping at the American Textile History Museum, knitting and basket making at Lowell National Historical Park, or weaving at the Tsongas Industrial History Center. And for those who like to dance, Lowell Kids Week has workshops from the Lowell Community Health Center Teen Block, Lowell National Historical Park, and the Angkor Dance Troupe.
Other highlights from Lowell Kids Week 2013 include Kids & Grandparents Bingo at the Senior Center, with free pizza and prizes for all. In addition, grab free movie passes, check out exciting games at Girls Incorporated, make your own scarf at the New England Quilt Museum, practice your Jedi Knight skills at the Pollard Library, and get inspired at the Youth Matters Media Festival. Many other activities are listed at www.lowellkidsweek.org.
Lowell Kids Week is just one part of the exciting family programming planned for the upcoming year at Lowell National Historical Park. Stop by the Visitor Center at 246 Market St. to learn more about park offerings, including Your City Saturdays, the Junior Ranger program, Boott Cotton Mills Museum, Mill Girls and Immigrants Exhibit, ranger led tours, and special events about Lowell's many other cultural attractions.
For more information on Lowell Kids Week, visit www.lowellkidsweek.org, or contact Lowell National Historical Park at (978) 970-5000/email emily_levine@nps.gov. For more information about Lowell National Historical Park visit www.nps.gov/lowe or call 978-970-5000.