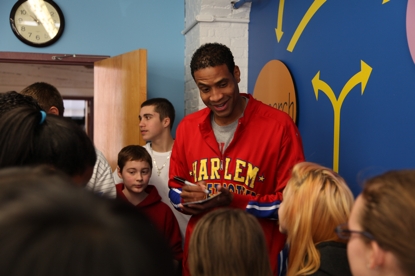 News Release Date:
February 15, 2013
Contact: Phil Lupsiewicz, 978-275-1705
Students from the Wang Middle School in Lowell, MA, got a special visitor from the Harlem Globetrotters basketball team this past Wednesday when forward Wun "The Shot" Versher stopped by the Tsongas Industrial History Center. The Shot was in town in advance of the Harlem Globetrotters game they are scheduled to be playing this coming week at the University of Massachusetts Lowell Tsongas Center.
Known for their athleticism, theater and comedy, the students listened to Wun talk about teamwork and dedication.A select number of students were able to get up close and involved in some hands-on basketball activity.After performing "the huddle," a special routine the Harlem Globetrotters performed right before games, the kids all got the opportunity to handle the ball and demonstrate an individual routine. Wun stayed for signing autographs and pictures with the class and some Tsongas Industrial History Center Staff.