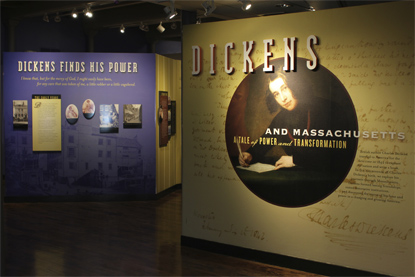 News Release Date:
July 20, 2012
Contact: Phil Lupsiewicz, 978-275-1705
The international Dickens Society came to Lowell National Historical Park during the weekend of July 13-15, 2012, hosting over 55 scholars, enthusiasts, and fans of the author Charles Dickens. As part of this year's international celebration of the bicentenary of Dickens' birth, Lowell was selected as the location for this symposium gathering and extended festivities for the anniversary. Lowell was a focus of Dickens' 1842 tour of America, even earning a chapter in his book, 'American Notes.'
A centerpiece of the Dickens' bicentennial is the exhibition, "Dickens and Massachusetts: A Tale of Power and Transformation," at the Boott Gallery of Lowell National Historical Park and co-curated by Diana Archibald, Associate Professor of English at UMass Lowell, and David Blackburn, Chief of Cultural Resources and Programs, Lowell National Historical Park. Professor Archibald seized upon the opportunity to host the symposium early in planning, emphasizing the natural fit Lowell had to Dickens interest in America, its institutions and industrial growth. One of over 60 planned events and programs in Lowell, the exhibit features a rich collection of rare Dickens artifacts on loan from the Charles Dickens Museum of London, Boston's Museum of Fine Arts, the American Antiquarian Society, the New York Public Library, the Fellman Collection at Worcester Polytechnic Institute, the Perkins School for the Blind and other institutions.
Dickens in Lowell is sponsored by the University of Massachusetts Lowell, in partnership with Lowell National Historical Park, the Tsongas Industrial History Center, Worcester Polytechnic Institute, the Charles Dickens Museum London, and with generous support from the Theodore Edson Parker Foundation and the University of Massachusetts President's Office. For more information about Dickens bicentenary events and his exhibition, please visit www.uml.edu/dickens.