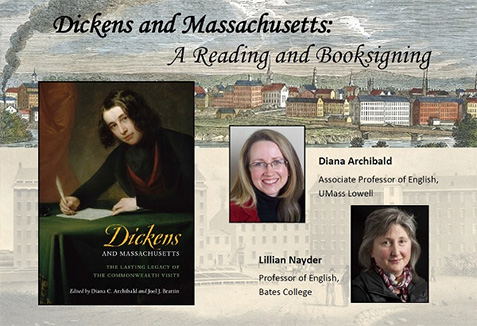 News Release Date:
January 27, 2016
Contact: Phil Lupsiewicz, 978-275-1705
Join us for a reading and booksigning celebrating Charles Dickens' historic visit to Lowell and Massachusetts in 1842, and the recent publication ofDickens and Massachusetts: The Lasting Legacy of the Commonwealth Visits.
1:30 - 2:30 p.m. Authors Diana Archibald and Lillian Nayder will read from their chapters
2:30 - 4:00 p.m. Booksigning and opportunity to meet the authors.
Copies ofDickens and Massachusettswill be available for purchase at the Eastern National Museum Store at the Visitor Center ($28.95 + tax).
Diana C. Archibald, Associate Professor of English at the University of Massachusetts Lowell, is the co-editor of and a contributor toDickens and Massachusetts: The Lasting Legacy of the Commonwealth Visits(UMass Press, May 2015). The volume further develops material gathered for the national award-winning public humanities exhibition at the Lowell National Historical Park in celebration of Charles Dickens's bicentennial (March 30-October 20, 2012): "Dickens and Massachusetts: A Tale of Power and Transformation." Archibald was co-curator and lead scholar of the exhibition and the Director of a seven-month slate of public programming for the "Dickens in Lowell" event series. She will read from her introduction, "Dickens and Massachusetts, the Republic of His Imagination."

Lillian Nayder is Professor of English at Bates College and author ofWilkie Collins(1997),Unequal Partners: Charles Dickens, Wilkie Collins and Victorian Authorship(2002), and the celebrated biography of Charles Dickens's wifeThe Other Dickens: A Life of Catherine Hogarth(2011), and has edited a volume onDickens, Sexuality and Gender(2012). She is writing a biography of Charles Dickens and his brothers as well as a historical novel centered on Letitia Austin, Dickens's younger sister, and their sister-in-law Harriet Dickens. Professor Nayder will read from her chapter entitled, "Dickens, Longfellow, and the Village Blacksmith." 
The reading and booksigning will take place at the Lowell National Historical Park Visitor Center at 246 Market Street. Free parking will be available at the Visitor Center parking lot at 304 Dutton Street. For any questions, please contact us at (978) 970-5000.