Civil War Trading Cards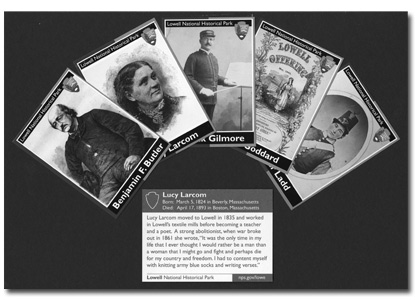 News Release Date:
June 27, 2011
Contact: Phil Lupsiewicz, 978-275-1705
Lowell, MA - Lowell National Historical Park is proud to roll out its newest media product geared for children and collectors of all ages: The National Park Service's 150TH Anniversary of the Civil War Trading Card Program.Lowell, and twenty-two sister sites produced 189 cards in the series celebrating the lives of people from that era and their related Civil War national park sites.Other sites in this region with cards include: Boston African-American National Historical Site, Boston Harbor Islands (New England's primer Civil War Site), Boston National Historical Park, New Bedford Whaling National Historical Park, and Saint-Gaudens National Historical Site, in New Hampshire.
The Lowell series presents five collectable cards of some known and unknown people and their stories.Did you know that the composer who wrote "When Johnny Comes Marching Home Again," lived in Lowell, and married a Lowellian?And, that Benjamin Butler created The Army of the James Medal, to honor the valor of African American Soldiers during the Battle of New Market?Learn this and more in the card Series.
The cards are free and collectors can travel to other sites to collect the complete set.Those who mention that they are collecting from other sites are provided with a free commemorative backpack to hold their cards - while supplies last. For more information about Lowell National Historical Park visit www.nps.gov/lowe or call 978-970-5000.
Last updated: February 26, 2015