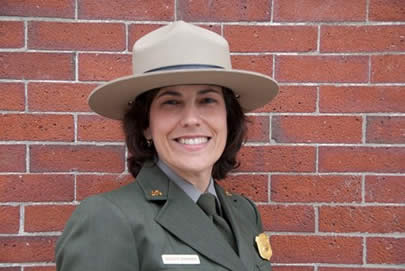 News Release Date:
May 16, 2012
Contact: Jane Ahern, 215-597-0865
Contact: Phil Lupsiewicz, 978-275-1705
Philadelphia- National Park Service (NPS) Northeast Regional Director Dennis Reidenbach has selected 25-year NPS veteran Celeste Bernardo as the new superintendent of Lowell National Historical Park (MA). Slated to begin June 18, Bernardo succeeds Michael Creasey who became the superintendent of Marsh-Billings-Rockefeller National Historical Park in Vermont in January of 2012.
In making the announcement, Regional Director Reidenbach said, "Celeste Bernardo's experience in fostering collaborative and adaptive partnerships with communities and partners at both the national and local levels made her the ideal choice for this position. Her exemplary skills in the fields of interpretation and education will serve to further develop the outstanding and innovative programs at Lowell National Historical Park."
Peter Aucella, currently Acting Superintendent at Lowell added, "Celeste is a great choice for Lowell. Her experience is ideal and those of us who have known her since her earlier assignment in Lowell are enthused to have her back."
On accepting the new assignment at Lowell NHP, Bernardo said, "Lowell National Historical Park is a national model for its educational and cultural programming and engagement, historic preservation, and economic development. This is due to the shared vision and leadership of the park and its government, education, business and non-profit partners. I am honored to continue this commitment to innovation and look forward to working collaboratively to serve the Lowell community and the nation."
No stranger to Lowell, Bernardo worked at the park from 1992 to 1995 as a supervisory park ranger and has called Massachusetts home in a host of other NPS assignments. Most recently, Bernardo served as deputy superintendent at Boston National Historical and Boston African American National Historic Site. Prior to that, she served as superintendent at New Bedford Whaling National Historical Park. She has also worked for the private, non-profit USS Constitution Museum located at the Charlestown Navy Yard in Boston National Historical Park (MA). From 2001 to 2003, she served as the museum's director of education and interpretation. In 2003, the Museum earned the National Award for Museum and Library Service, awarded by First Lady Laura Bush, to recognize the museum's commitment to public service through exemplary and innovative programs and community partnerships. She has also served on the Department of the Interior's Partnership and Collaborative Action Team and currently sits on the National Park Service Education Council.
Bernardo began her career with the National Park Service in 1986, working as an interpreter at Fire Island National Seashore (NY), Point Reyes National Seashore (CA), and Independence National Historical Park (PA). She advanced through her career working in interpretation and education leadership positions at a number of parks including San Francisco Maritime National Historical Park (CA), Golden Gate National Recreation Area (CA), Lowell National Historical Park (MA), Boston National Historical Park (MA), and Sagamore Hill National Historic Site (NY). Bernardo also served as the partnership training specialist at the NPS Stephen T. Mather Training Center where she initiated the NPS's Partnership Training and Development Program for NPS employees.
A native of Long Island (NY), Bernardo holds a BA in Recreation and Leisure Studies and an MA in American History from Northeastern University. She is a graduate of the Munson Institute of Maritime Studies at Mystic Seaport. Bernardo and her husband and daughter reside in Sharon, MA.
Created in 1978, Lowell NHP interprets and preserves significant historical and cultural resources from the 19th-century American Industrial Revolution. Lowell NHP represents an innovative park concept that provides for an historical/cultural park in a living, working, urban environment. Lowell NHP was given a unique mandate which called for the park to not only preserve and interpret the resources representing Lowell's role in the 19th century American industrial revolution but also to serve as a catalyst in revitalizing the city's physical, economic and cultural environments.
-NPS-