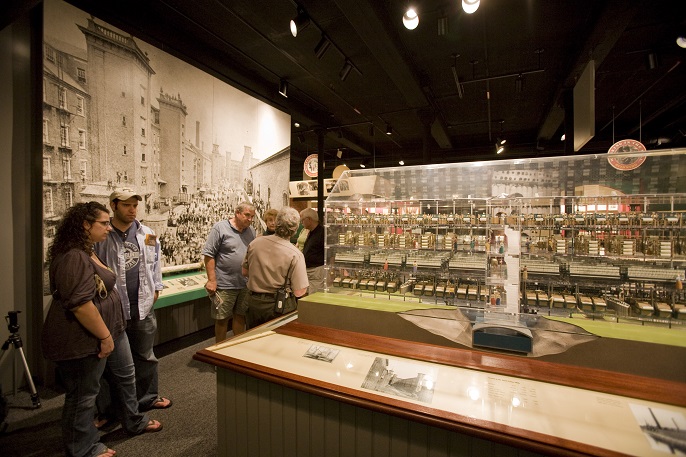 News Release Date:
October 20, 2015
Contact: Phil Lupsiewicz, 978-275-1705
Lowell, MA – In honor of Veterans Day, Lowell National Historical Park will be waiving museum fees for all visitors at the Boott Cotton Mills Museum on Wednesday, November 11, 2015.Lowell National Historical Park would like to invite our communities to visit and to learn more about the history, heritage and people of Lowell.Explore on your own, or join a ranger for a talk at the Boott Cotton Mills Museum.
The Boott Cotton Mills Museum tells the story of America's Industrial Revolution, labor, and the rise, fall, and rebirth of Lowell. The museum includes an operating 1920s weave room, and is currently open daily from 9:30 a.m. to 5:00 p.m. Visitors are encouraged to begin their visit at the National Park Visitor Center at 246 Market Street. Free parking is available at the Visitor Center parking lot at 304 Dutton Street.
In addition, visitors are invited to the temporary exhibit "The Lure of the Spindle: The Portuguese in Early 20th-Century Lowell" which showcases the lives of immigrants at work and play and explores their devotion to their faith, families and neighborhoods. The exhibit, which is free and open to the public, is presented by a partnership between UMass Lowell's Saab-Pedroso Center for Portuguese Culture and Research, the university's Center for Lowell History, and Lowell National Historical Park.
For more information about Lowell National Historical Park, visit https://www.nps.gov/lowe or call 978-970-5000. For information about national parks nationwide that are participating in fee free events this weekend, please visit https://www.nps.gov/findapark/feefreeparks.htm.
-end-