Cambodian Wood Fire Kiln with Master Ceramicist Yary Livan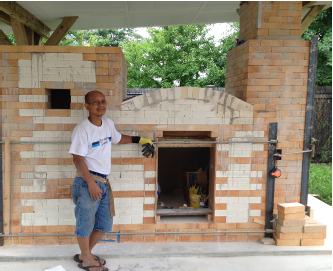 News Release Date:
September 7, 2012
Contact: Maggie Holtzberg, 978-275-1719
Contact: Phil Lupsiewicz, 978-275-1705
Lowell, MA - Come learn about the centuries-old tradition of Cambodian pottery and watch the first official firing of a newly constructed kiln.Master ceramicist Yary Livan embodies the Cambodian pottery tradition with artistry and excellence. As one of only three master ceramicists to survive the Khmer Rouge genocide, Livan is one of only two still actively creating pottery. The other is Kang Proeung, visiting artist from Cambodia. He and Yary both grew up in the same village along the Mekong Delta and have known each other since childhood. Together, they have built a Cambodian-style wood fire kiln to help insure that this art form, which dates back to the Angkor Kingdom (9th -12th centuries) can continue and flourish. Livan, Proeung, and others will be on hand to explain the kiln's design, the firing process, and features of the Cambodian ceramics that will be burning inside.The program is free and open to the public.
The program takes place on Saturday, September 22, at 2:00 p.m. at the Lowell National Historical Park maintenance facility at 220 Aiken Street, Lowell MA. For information on the event visit www.nps.gov/lowe or call Maggie Holtzberg at 978-275-1719 or visit http://community.middlesex.mass.edu/blogs/cambodiankiln/about.aspx. The Cambodian Wood Fire Kiln project is collaboration between Middlesex Community College and Lowell National Historical Park. The Lowell Folklife Series is sponsored by Lowell National Historical Park.
Last updated: February 26, 2015