News Release
Branding Lowell: A History of Local Design Exhibit Opening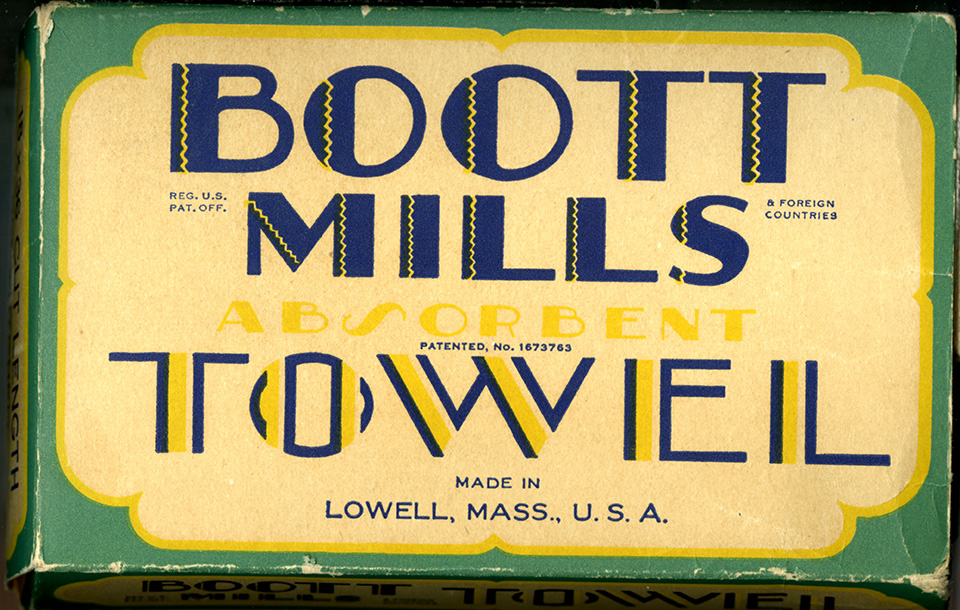 News Release Date:
March 12, 2018
Contact: Phil Lupsiewicz, 978-275-1705
LOWELL, MA. 
The new exhibit Branding Lowell: A History of Local Design, a cooperative effort between Lowell National Historical Park and University of Massachusetts Lowell, will open on Saturday, March 24, 2018, from 3:00 p.m. to 5:00 p.m. 

The exhibit focuses on how the city, local businesses, and organizations designed their symbols and how this imagery reflects Lowell's collective and evolving identity since its founding.
The exhibit is the brainchild of two people: Mark Van Der Hyde, a digital project manager by trade and an enthusiastic and dedicated volunteer at Lowell National Historical Park and Tony Sampas, a fellow Lowell history enthusiast and archivist for UMass Lowell. Combining their love for both the graphic arts and Lowell, Mark and Tony developed the exhibit panels. Lowell NHP intern Sarah Black of UMass Boston curated the accompanying display of objects from the park's collection. She worked closely with Mark and Tony to ensure the exhibit has a consistent message between the different components.  

The resulting exhibit, Branding Lowell is a content–rich, vibrant visual history of Lowell.  The park's chief of cultural resources, Laurel Racine, says "I am thrilled to see this project come to fruition. This team really pushed the boundaries of the park's temporary exhibit program with the level of research and community connections. Every week there was a new layer: from panels to objects to social media to a satellite exhibit at Mill No. 5 to on-line content. It's been fun working 
 
with such a dynamic and talented team."
Branding Lowell
 is on view at the Patrick J. Mogan Cultural Center at 40 French Street daily throughout the spring and summer on Monday-Friday from 9:00 a.m. to 5:00 p.m., and on Saturday-Sunday from 1:30 p.m. to 5 p.m. The satellite exhibit is at Mill No. 5, 250 Jackson Street 9:00 a.m. to 8:00/10:00 p.m. depending on the day. 
Admission is free. 
For more information, please call 978-970-5000 or visit www.nps.gov/lowe
 -NPS-
Last updated: March 29, 2018