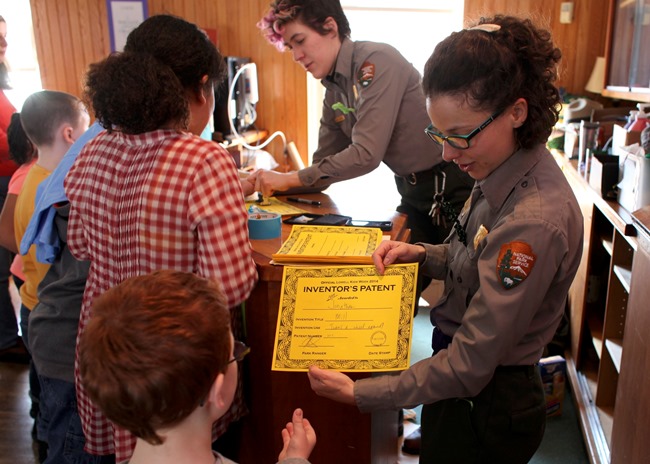 News Release Date:
January 22, 2016
Contact: Jennifer Zazo, 978-970-5025
Contact: Phil Lupsiewicz, 978-275-1705
Lowell, MA.—Be the curator for a day, try your hand at weaving, or lend your ideas as a city planner... Express yourself, make new friends, and try something new at Lowell Kids Week 2016! Lowell Kids Week is an annual festival of free family fun that takes place during February school vacation, February 14-20, 2016. Events are hosted by over twenty partner organizations and take place at locations throughout Lowell. The complete schedule of events will be available February 1 at www.lowellkidsweek.org. All programs are free, but many require pre-registration –plan ahead and register early! 

Lowell Kids Week offers of nearly fifty free programs, serves over 2,000 area children and their families, and builds connections among a diverse group of local organizations, agencies, and businesses. This year, families will enjoy an exciting variety of new programs, as well as many returning favorites. There's something for everyone, from toddlers to tweens! 
″Get active with free ice skating courtesy of the Lowell Recreation Department and a salsa dance workshop at Lowell National Historical Park;
″Meet a local native owl from Mass Audubon's Drumlin Farm Sanctuary and sharpen your scientific skills as you search for wildlife during a winter scavenger hunt at Hawk Valley Farm;
″Fire up your imagination at the Pollard Memorial Library's Pirate Party, become a Groovy Scientist at Girls Incorporated of Greater Lowell, or design, build, and operate a canal system in the Water Room at the Tsongas Industrial History Center;

″Join local artists and Build a Future City with Judy Bessette and paint a Story Scroll about your family's unique history with Richard Marion at Lowell National Historical Park;
″Take in a show with a live performance by the Angkor Dance Troupe and enjoy a free movie with the Magical Mystery Movie Club at Luna Theater;

Find details for these and many other exciting programs at www.lowellkidsweek.org.
Lowell Kids Week is just one part of the exciting National Park Service Centennial programming planned for the upcoming year at Lowell National Historical Park. Stop by the Visitor Center at 246 Market St. to learn more about park offerings, including April PLAYcation, Earth Day, Your City Saturdays, Boott Cotton Mills Museum, Mill Girls and Immigrants Exhibit, ranger led tours, and special events about Lowell's many other cultural attractions.
For more information on Lowell Kids Week, visit www.lowellkidsweek.org or contact Lowell Kids Week Coordinator, Jennifer Zazo-Brown at (978) 970-5025 or via email at jennifer_zazo@nps.gov. For more information about Lowell National Historical Park visit www.nps.gov/lowe or call (978) 970-5000.
Lowell Kids Week is presented by the Lowell National Historical Park, Lowell Recreation Department, American Textile History Museum, Angkor Dance Troupe, Coalition for a Better Acre, Council on Aging, Mass Audubon's Drumlin Farm Sanctuary, Fingers &Paws Dog Training, Girls Incorporated of Greater Lowell, JRI Grip Community Based Services, Lowell Parks &Conservation Trust, Lowell General Hospital, Lowell Humane Society, Luna Theater, Mill City Grows, Mill No. 5, Pollard Memorial Library, Chelmsford Stop &Shop, Tsongas Industrial History Center, Umbrella Community Arts Center, Women, Infants, and Children (WIC), local artists Judith Bessette and Richard Marion, and additional partners to be announced.
-NPS-