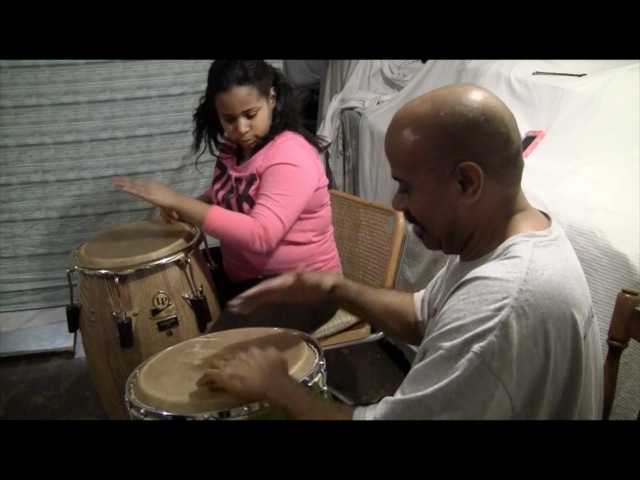 News Release Date:
April 29, 2013
Contact: Maggie Holtzberg, 978-275-1719
Contact: Phil Lupsiewicz, 978-275-1705
Lowell, Massachusetts. Two continents.  Two ancient percussive traditions. And two young people with the good fortune to be born into musical families headed by master musicians. Come experience how cultural tradition is passed on.
Some of the strongest musical traditions are passed down within families. This afternoon program features two master musicians, both of whom were recently awarded Traditional Arts Apprenticeship grants by the Massachusetts Cultural Council. Balla Kouyaté is a virtuoso player of the balafon, the ancient West African ancestor of the xylophone and marimba. Sixto "Tito" Ayala comes from a legendary music and dance institution in Puerto Rico - the Ayala family.

Balla was raised in the Djeli (Griot) tradition in Mali. In the African tradition, the Djeli embodies the culture of his people and serves as oral historian, musician, dancer and performer. The Kouyaté clan is recognized as the first Djeli family, indeed, its lineage dates back to the 13th century. Balla learned to play the balafon from his father in Mali. Played with mallets, the balafon is made up of wood slats of varying lengths. Underneath, two rows of calabash gourds serve as natural amplifiers. Now resettled in Massachusetts, Balla is passing down the playing style and repertoire of Djeli music to his son Sekou, so that he may one day accompany Djeli singers who share the history of their West African ancestors.
Sixto "Tito" Ayala has been playing the drums and dancing since he was a little boy.  Deeply rooted and connected to the Conga percussion tradition, Tito's technique, musicality and profound knowledge of the Bomba tradition, has attracted the likes of master percussionists who have taken lessons with him.
In addition to being a talented percussionist, Tito has been a rhythm section leader, dancer, and teacher. This year, Tito has been passing on his knowledge of bomba and plena - both percussion and dance -- to his daughter Estefany Navarro. They have specialized in the many rhythms of conga percussion including sica, holandes, salsa, plena, yuba, and seiz corrido. Estefany is also schooled in bomba and plena dance, and has played the vejigante role (masquerader) in carnival processions.
In addition to performing musical selections, these musicians will share some of the joys and challenges of transmitting cultural heritage.
The Lowell Folklife Series program is free & open to the public at 2:30 pm Sunday, May 19, 2013, at the Lowell National Historical Park Visitor Center, 246 Market Street, Lowell, MA. For information on the event visit or call Maggie Holtzberg at 978-275-1719. For more information about Lowell National Historical Park visit www.nps.gov/lowe or call 978-970-5000.