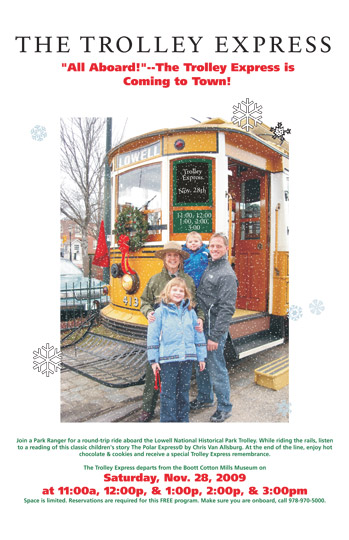 News Release Date:
November 6, 2009
Contact: Reservations, 978-970-5000
Contact: Phil Lupsiewicz, 978-275-1705
Families can join a Park Ranger for a free round-trip ride aboard the Lowell National Historical Park Trolley. The Trolley Express departs from the Boott Cotton Mills Museum on Saturday, November 28, 2009 at 11:00am, 12:00pm, 1:00pm, 2:00pm and 3:00pm. While riding the rails, listen to a reading of the classic children's story by Chris Van Allsburg, The Polar Express. At the end of the line, enjoy hot chocolate and cookies and receive a special Trolley Express remembrance. With limited seating, reservations are required. To make your reservations, call 978-970-5000.
The Trolley Express is presented in conjunction with Lowell's annual City of Lights Festival. Families can partake in numerous fun activities as the downtown comes to life for the holiday season. For a complete list of City of Lights activities visit the Cultural Organization of Lowell (COOL) website at: http://www.lowell.org