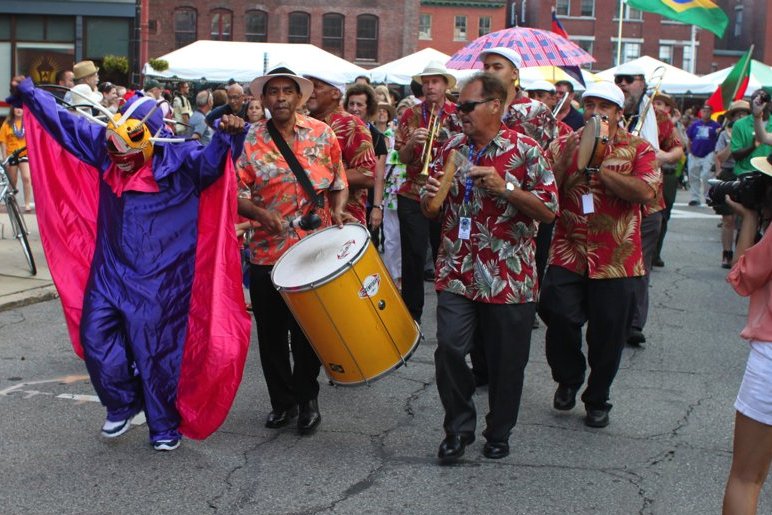 News Release Date:
August 2, 2012
Contact: Phil Lupsiewicz, 978-275-1705
Lowell, MA- Historic downtown Lowell, Massachusetts became the setting for the 26th Lowell Folk Festival July 27th-29th. Tens of thousands of visitors enjoyed the array of traditional music, crafts, and foods at six performance stages, street-side locations, and other venues. A rainy Saturday afternoon couldn't keep the crowds away.
Humid New England weather greeted those attending the opening of the festival on its 26th year at Boarding House Park and the Dutton Street Dance Stage on Friday night.During the weekend, 25 different performers ranging from Zimbabwe's Oliver "Tuku" Mtukudz to the New Orleans piano of Davell Crawford performed.Savory foods were available for all tastes, choosing among Portuguese, Armenian, Laotian, Pilipino, Middle Eastern, Jamaican, and others. Folk Crafters demonstrated their talents in "From Head to Toe," this year's theme in the Folk Craft demonstration area with headwear and footwear featured. Presenters at the Foodways area gave talks and demonstrations with intriguing tomato recipes and traditions such as Greek kayianas, heirloom tomatoes, Iraqi tapsi, and Nigerian jellof.
Among the highlighted activities in 2012 was the multi-cultural community participation in the kick-off parade carrying the flags of their nations, hosted by the City of Lowell, and with Jorge Arce and Raiz de Plena.leading the parade with masqueraders and musicians playing bomba music.
On the green side, the Festival's successful recycling program reduces the amount of Festival trash produced with a system that includes biodegradable utensils at food booths that are directed with other suitable materials to a composting system and a can/bottle recovery program. Visitors were able to take home small bags of last year's composted material and encouraged to "put a little folk in their garden".
Lowell National Historical Park is a producing partner of the annual Festival along with the City of Lowell, Greater Lowell Chamber of Commerce, Greater Merrimack Valley Convention and Visitors Bureau, Lowell Festival Foundation, and National Council for the Traditional Arts.