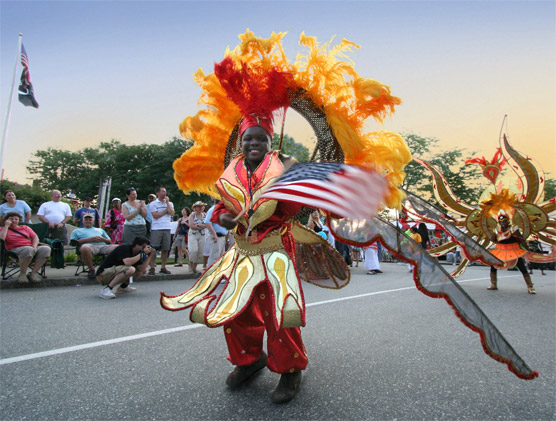 News Release Date:
July 22, 2011
Contact: Phil Lupsiewicz, 978-275-1705
It's just around the corner, the 25th Lowell Folk Festival, July 29-31. Make plans to spend the weekend in Lowell. It's music, food, family activities and full days of fun. Here's the complete list of this year's performers:
• Birmingham Sunlights (a cappella gospel quartet singing)
• Ledward Ka'apana (Hawaiian slack-key guitar)
• Hector del Curto's Tango Quartet (Argentine tango)
• Dervish (Irish)
• The Quebe Sisters Band (western swing & Texas fiddling)
• Shemekia Copeland (blues)
• Michael Cleveland & Flamekeeper (bluegrass)
• Le Vent du Nord (Québécois)
• La Excelencia (salsa dura)
• Bill Kirchen & Too Much Fun (honky-tonk Telecaster master)
• George Soffos Ensemble (Greek)
• Eden Brent (blues & boogie-woogie piano)
• Stanky & The Coal Miners (eastern-style polka)
• Debo Band w/ special guest Fendika (traditional Ethiopian azmari music & funk)
• Nukariik (Inuit throat singing)
• Rhythm of Rajasthan (Rajasthani music and dance)
• Eddie & Alonzo Pennington ("Travis-style" thumb picked guitar)
• Grupo Rebolú (Colombian)
• Nathan & The Zydeco Cha Chas (Louisiana Zydeco)
• Fendika (traditional Ethiopian azmari music & funk)
• Chinese Folk Art
• Angkor Dance Troupe (Cambodian music & dance)
• Jason Roseman (Trinidadian steel drum)
• Worcester Kiltie Pipe Band (Highland Bagpipe Parade Band)
• Dynasty Carnival Parade Band (Carnival mas band)
•
These performers will be on the six stages as well as parades and street performance area throughout downtown Lowell.
Each year, thousands of music fans make their way downtown to the Lowell Folk Festival, the largest free festival in the country, to enjoy a wide variety of acoustic music. Twenty five, regional and national acts will perform on Friday, Saturday and Sunday, July 29-31 offering continuous live music featuring folk, blues, Celtic, bluegrass, folk-rock, world, country, gospel, and Cajun rhythms on six stages. The six stages are all within walking distance from the corner of Merrimack Street and Central Street, allowing for many musical choices.
At the Folk Craft and Foodways area, you can see traditional crafts demonstrations, which in 2011 emphasize the skills of New England artists and their apprentices. At the Foodways demonstration area, we'll look at how pasta and noodles are prepared in five different cultural cuisines. Whether it's the art of making pasta from scratch, or using noodles to create a savory dish, take a seat and watch how this flour-based staple can take on such different flavors and shapes. The Lowell Folk Festival will offer fun activities and arts and crafts for all age groups at various locations throughout the entire weekend.
Delicious ethnic foods sold by local not-for-profit organizations, continue to be a unique Lowell Folk Festival offering spanning from Portuguese to Thai, and from African American soul food to Middle Eastern cuisines.
The year's festival will kicks off with a Parade through downtown Lowell at 6:40pm on Friday, July 29.
The schedule for all Lowell Festival events, performing artist information and craft and food information will be updated at the official website as it is confirmed: visit www.lowellfolkfestival.org or call 978-970-5000for updates.
The Festival partners: the City of Lowell, Greater Merrimack Valley Convention and Visitors Bureau, Lowell Festival Foundation, Lowell National Historical Park, and National Council for the Traditional Arts remind you to mark your calendar for July 29-31!