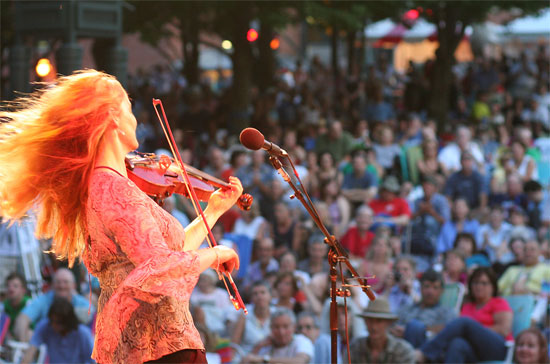 News Release Date:
July 30, 2009
Contact: Phil Lupsiewicz, 978-275-1705
23rd Lowell Folk Festival
Lowell, MA—Historic downtown Lowell, Massachusetts became the setting for the 23rd Lowell Folk Festival July 24-26. Tens of thousands of visitors enjoyed the array of traditional music, crafts, and foods at six performance stages, street-side locations, and other venues. Saturday's truly summer-like weather drew tremendous crowds.
Those attending for the music could choose from twenty-five performers, spanning from the Houston blues of Trudy Lynne to Tuvan throat-singing by Alash. Savory foods were available for all tastes, choosing among Portuguese, Armenian, Laotian, Pilipino, Middle Eastern, Jamaican, or six other cultures.  Master crafters representing those highlighted in the publication, "Keepers of Tradition", thrilled onlookers along Lucy Larcom Park with their Muscogee carving, spiral pier bricklaying, icon painting, Malian mud clothes, and more. The combined experiences prompted many visitors to head home with smiles on their faces in spite of the heavy downpour that closed the Festival late on Sunday afternoon.
Among the highlighted activities in 2009 were the kick-off multi-cultural community flag-raising hosted by the City of Lowell, the evening parades with the R&B and brass band of Glen David Andrews, the Brazilian acrobatic fusion of dance and martial arts with Capoeira Luanda, and the New England barn dances with Two Fiddles at St. Anne's Churchyard Stage.
On the green side, the Festival's successful recycling program celebrated its 10th anniversary of greatly reducing the amount of trash with a program that includes biodegradable utensils at food booths that are directed with other suitable materials to a composting system and a can/bottle recovery program. Visitors were able to take home small bags of last year's composted material and encouraged to "put a little folk in their garden".
Lowell National Historical Park is a producing partner of the annual Festival along with the City of Lowell, Greater Merrimack Valley Convention and Visitors Bureau, Lowell Festival Foundation, and National Council for the Traditional Arts.