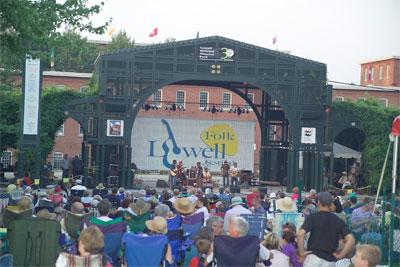 News Release Date:
July 29, 2008
Contact: Phil Lupsiewicz, 978-275-1705
22nd Lowell Folk Festival
Lowell, MA.  Lowell National Historical Park, a producing partner with The City of Lowell, National Council for the Traditional Arts, The Greater Merrimack Valley Convention and Visitor Bureau, and the Lowell Festival Foundation, celebrated the 22nd Lowell Folk Festival in grand style.
The Festival and the city of Lowell welcomed tens of thousands of visitors from Friday evening through Sunday, July 25 – 27. Twenty-five traditional performance groups provided music and more at six stages. From Jamaican ska to polka, audiences clapped their hands and kicked up their feet while enjoying the diverse offerings. The handiwork of fifteen New England craftspeople was showcased along Lucy Larcom Park. Families participated in music-making and street games along Shattuck Street.
Performance venues, street activities, the crafts demonstrations, and juried art exhibition areas all highlighted the preserved character of historic downtown Lowell. Cultural organizations from the Lowell area provided the unique taste of the Lowell Folk Festival through the ethnic food sales made available throughout the festival. Polish, Greek, Lao, African-American and many more menus were offered.
The "Price-less" Parade, named in recognition of longtime parade master and current Superintendent at Cape Cod National Seashore, George Price who recently handed off his umbrella and duties as the parade leader.  Lowell's Mayor, Bud Caulfield, graciously accepted the umbrella and led the Festival kick-off parade on Friday. Dynasty Carnival, a high energy Boston-based carnival band, charged audiences with their bright brilliant costumes and percussive beat.
Additional ranger support was provided by Boston NHP, Minute Man NHP and Salem Maritime NHS for crowd and visitor safety.
For more information about this year's Festival lineup, visit:  www.lowellfolkfestival.org.
For a sample of press coverage of the Lowell Folk Festival visit: www.lowellsun.com/ci_10020443?IADID=Search-www.lowellsun.com-www.lowellsun.com, and
http://www.boston.com/news/local/articles/2008/07/24/taught_in_dreams_he_says_hell_surface_in_lowell/