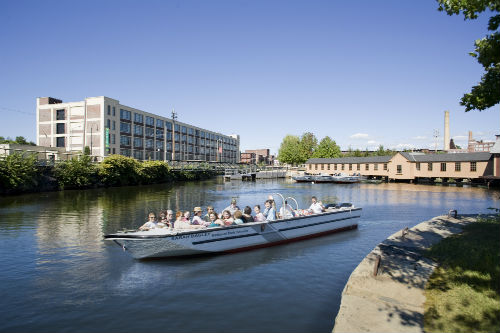 News Release Date:
May 19, 2014
Contact: Phil Lupsiewicz, 978-275-1705
LOWELL, MA — Canal Boat Tours Begin Memorial Day Weekend at Lowell National Historical Park. Visit Lowell and cruise the historical canals by boat and ride a trolley though downtown. Canal boat tours begin for the 2014 season on Memorial Day weekend. Between May 24 and June 13 Lowell National Historical Park will offer its popular canal tours on Saturdays and Sundays. Canal boat tours are offered daily beginning Sunday, June 14.
Lowell National Historical Park, one of 401 units of the National Park Service, inspires and engages people in the discovery, preservation and stewardship of the human stories, tangible reminders and legacies of America's Industrialization. The park features a historic cotton mill complex, the Boott Cotton Mills Museum with a working weave room, 5.6 miles of canals and canal walkways, operating gatehouses, and historic replica Trolleys running throughout the day.
Tours:
"Working the Water" Canal Boat Tour
Who dug the canals? Who worked the locks and gates? Discover the human force behind the power of the canal system on this 90-minute canal boat tour on the Pawtucket Canal. This tour is offered Saturdays, Sundays, and Memorial Day during the early summer season at 11:00am, 12:00pm, 2:00pm & 3:00pm.
Fees: Adults, $8.00; Seniors/students, $7.00; youth (6 -16 years old), $6.00; Children 5 and under, free.
*Boat tour schedules and itineraries may be modified at any time depending on water levels.
"Views of Lowell" Trolley Tour
Explore the relationship of the river to the power and production of the industrial city. Learn about the lives of Lowell's famous mill girls. Discover the downtown locks and canal structures. Tour travels primarily by trolley with some walking. This tour is offered at 2:30 pm, Monday -Friday. Free.
"Moving Conversations" Guided Walk (Beginning June 14)
Who is an American? Join us for an interactive neighborhood tour exploring immigration and identity in Lowell.
This tour is offered daily at 1:00. Free.
"Hidden History" Ranger Talks
Brief, but in-depth talks dig a little deeper into the experiences of Lowell.
Boott Cotton Mills Museum. Daily, 11:00am, 1:00pm & 3:30pm
Mill Girls & Immigrants Exhibit. Daily, 2:00pm & 4:00pm
Additional Visitor Offerings:
In addition to the boat tours and special events, Lowell National Historical Park offers the following opportunities to discover Lowell from May 24 through June 13:
VISITOR CENTER
246 MARKET STREET
9:00 am – 5:00 pm, Daily.
Begin your visit at the Visitor Center in Market Mills, one of the city's original textile mills. Plan your exploration of the major park sites and the city's rich industrial past. Watch "Lowell: the Industrial Revelation", an award –winning multimedia presentation, introducing visitors to the story of Lowell. Make reservations for park tours and other programs. Learn about Lowell's many cultural institutions and diverse array of special events that celebrate the city's rich cultural heritages. Also check out the Children's Corner, become a Junior Ranger, and shop in the Museum Store. Free admission.
BOOTT COTTON MILLS MUSEUM,
115 JOHN STREET
9:30 am – 5:00 pm, Daily.
Don't miss the roar of a 1920s weave room with operating power looms! The park's primary exhibit includes the weave room, interactive exhibits and video programs about the Industrial Revolution, labor, and the rise, fall, and rebirth of Lowell. Stop in the Boott Museum Store for a shuttle of your own.
Fees: Adults, $6.00; Youths, 6 -16 & Students $3.00; Senior Discount; Children 5 and under, free.
MILL GIRLS & IMMIGRANTS EXHIBIT,
4O FRENCH STREET
1:30 pm – 5:00 pm, Daily.
Explore the history of mill girls and the legacy of immigrants in a Boott Mills boardinghouse. The Mill Girls & Immigrants Exhibit, located in the Mogan Cultural Center, tells the human story of the Industrial Revolution by concentrating on the working people of Lowell. Free admission.
TROLLEYS
It's the 30th anniversary of historic replica trolleys in downtown Lowell operating daily carrying visitors and students from the Visitor Center to the Boott Mills. Schedules vary, so please check for the trolley schedule at the Visitor Center Desk or trolley stops throughout town. Free.
Look for the expanded summer offerings beginning Saturday, June 14 and other Park information at www.nps.gov/lowe or by calling 978-970-5000.