2013 Excellence Awards Recognition For Five Community Contributors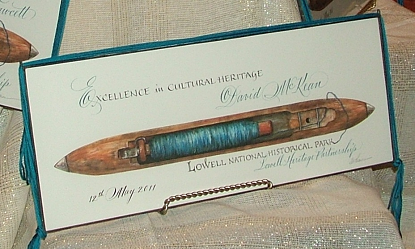 News Release Date:
May 15, 2013
Contact: Phil Lupsiewicz, 978-275-1705
Lowell, Massachusetts. During National Preservation Month, Lowell National Historical Park and the Lowell Heritage Partnership celebrate community efforts in the realms of historic preservation and cultural heritage. Recognition of these accomplishments will occur in conjunction with the City at the kick-off of Doors Open Lowell 2013, on Thursday, May 16.

For seven years, the Park and Partnership have recognized contributions in Lowell for excellence in historic preservation and cultural heritage. This year, award recipients include:
Excellence in Historic Preservation
Lowell Community Health Center:For preserving Mill No. 6 of the Hamilton Manufacturing Company through a renovation and redevelopment into a combined medical and community health center. Working with Durkee, Brown, Viveiros & Werenfels Architects and the community the Center serves, this integrated facility opened in February 2013.
Excellence in Cultural Heritage
Dr. Patrick J. Mogan:We sadly note the passing of Dr. Patrick J. Mogan in December and applaud his decades of leadership in celebrating Lowell's cultural heritage. As the namesake of the Mogan Cultural Center in the Park, we celebrate his contributions to instigating the creation of a national park in Lowell. Without his passionate vision for pulling Lowell's history and culture into the limelight, many features and landscapes around the city might be very different today.
Lowell Southeast Asian Water Festival: For 16 years this summer event along the Merrimack River has been sharing and celebrating Southeast Asian traditions and culture, with an emphasis on the significance of water both in spirit and livelihood, for current and future generations.
Richard Howe, Jr.:Carrying on the tradition of sharing Lowell's history as told through the Lowell Cemetery, Richard is illuminating the Cemetery's historic landscape along with the contributions of the spectrum of individuals interred there, whether a century or a year has passed.
Albert Lorenzo:For dedication in researching, writing, and publishing five in-depth volumes on the Lowell canal system that have become a go-to resource for many, as well as for his generous assistance to those researching these topics.
For more information about the 12th Anniversary of Doors Open Lowell program, May 16-18, 2013, visit www.doorsopenlowell.org. For more information about Lowell National Historical Park, visit www.nps.gov/lowe.
Last updated: February 26, 2015