2013 Annual Awards in Lowell Historic Preservation and Culture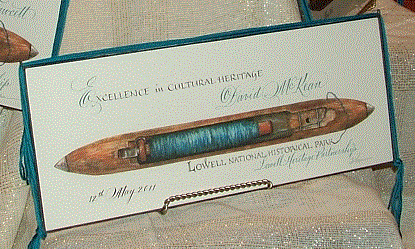 News Release Date:
February 15, 2013
Contact: Phil Lupsiewicz, 978-275-1705
Lowell Heritage Partnership and Lowell National Historical Park are seeking nominations from the community for acknowledging the contributions of organizations or individuals in the areas of historic preservation and cultural heritage. Superintendent Celeste Bernardo stated that, "these awards give the Park and Partnership an opportunity to recognize those making major contributions to the development of this community and its historic resources. We intend to promote stewardship of these ideals for the benefit of future generations." The award recipients will be announced at the fifth annual Lowell Preservation and Cultural Heritage Awards Reception as part of Doors Open Lowell in May.
These two award categories represent the important nature of the Park's dual mission to "preserve and interpret the nationally significant historical and cultural sites" in Lowell. Two awards may be presented in each area, one to an enrolled middle through college student and one from the broader community nominees. Referring to the awards, Lowell Heritage Partnership president, Janet Leggat stated, "The Lowell Heritage Partnership was formed around cultural heritage and historic preservation, and the contributions these ideals make to the quality of life in Lowell. We look forward to again participating, with these awards going to deserving individuals and organizations that uphold the ideals we so strongly believe in."
Nominees should represent an individual or organization that has demonstrated significant contributions of time and effort to project participation and leadership.
Nominations, via the attached forms, will be accepted through Friday, March 8, 2013. A summary description with the application should not exceed two pages and include:
FOR HISTORIC PRESERVATION:
Exemplar projects that have led to the preservation and/or rehabilitation of buildings and landscapes within the City of Lowell that have contributed to enhancing the preservation of Lowell's historic character.
A brief summary of the preservation project activities and outcomes.
Documentation of the final product, in terms of resources preserved and their significance, and what they offer in their new role in the city's economic development and quality of life. Materials in addition to written descriptions should be limited to two support items.

FOR CULTURE:
Programs or projects illustrating accomplishments in capturing, conveying, and expressing Lowell's unique cultural history and heritage. This may include interpretation and education ventures, festivals, cultural activities, documentation, and more.
A brief summary of the project activities and outcomes including the audiences served and influence these activities have had toward increased understanding and appreciation of Lowell as a city representing a significant national story and its continuing evolution today.
Materials in addition to written descriptions should be limited to 2 support items.
For additional information, please contact Sarah Guevara by email at sarah_guevara@nps.gov, or 978-275-1700.
Send nominations to Sarah Guevara by Friday, March 8, 2013.
By US Mail at: Lowell National Historical Park, 67 Kirk Street, Lowell, MA, 01852
Or by email to sarah_guevara@nps.gov\
Last updated: April 19, 2018