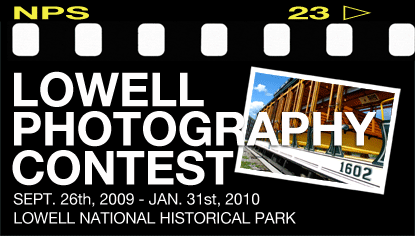 News Release Date:
October 1, 2009
Contact: Phil Lupsiewicz, 978-970-1705
Contact: Jonathan Parker, 978-970-5048

Lowell, MA
– A visual celebration of Lowell National Historical Park and the City of Lowell has begun with the start of the inaugural Lowell Photography Contest. The contest runs from September 26th, 2009 to January 31st, 2010 – both teens and adults can enter up to three photographs taken any time in 2009. Prizes include public exhibition in a Park gallery, nationwide National Park Passes, a behind-the-scenes tour with a Park Ranger, an invitation to a special photography event at the Park, and official recognition from the National Park Service. Entry forms and complete contest information is available at
https://www.nps.gov/lowe/
Massachusetts photographers recently heralded Lowell as "the state's most photogenic city," and the contest encourages both amateur and professional photographers to take a close, creative look at the heritage and visual essence of Lowell. America's National Parks are world renown for possessing some of the most compelling historical and natural environments ever captured on film. Lowell's blend of industrial heritage and cultural diversity make the city one of America's distinctive National Park areas - and a superb location for photography.
Photographs of any historical, cultural, or natural subject will be accepted. A panel of local judges will evaluate photos based on originality, artistic composition, photographic technique, and technical execution. Three winners will be selected from ten finalists in both the teen and adult categories. A single Grand Prize winner will also be selected. All participants will receive official certificates from the National Park Service recognizing their photographic work, contest participation, and promotion of Lowell's heritage. Winners and finalists announced on March 1st, 2010. Please read the
full contest rules
before entering.
To enter the Lowell Photography Contest or view current photo entries visit
https://www.nps.gov/lowe/