Field Trips
Do History and Science at the                Tsongas Industrial History Center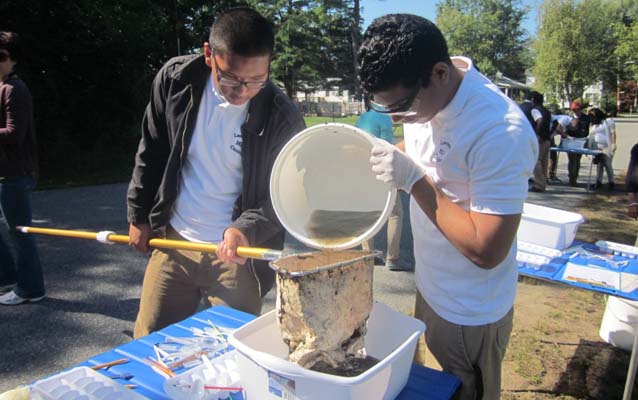 Description
Bring history alive for your students with a visit to the Tsongas Industrial History Center at Lowell National Historical Park. Each program includes a hands-on workshop and tour and is fully guided - curb to curb. The program day is approximately four hours long. For reservations, please call 978-970-5080. 

Bale to Bolt (Grades 3-12) Students weave cloth by hand, learn how cloth is woven on power looms, discover how inventions affect workers and production, and explore workers' lives. 
Bridging the Watershed (Grades 7-12) Students gather and analyze water quality data, catch and identify macroinvertebrates and discuss how human actions can affect the health of the Merrimack River. 
Change in the Making (Grades 3 & 4) Students dress in costumes of young farm and factory workers, work a cotton gin, visit the weave room and boarding house, and map changes in land use.  
Engineer It! (Grades 3-12) Students employ the engineering design process to accomplish a challenge, and investigate the simple machines and materials properties of our historic technology. 
Industrial Watershed (Grades 6-12) Students use groundwater simulation tanks to discover how pollution affects surface and ground water, and examine historical photographs at the Suffolk Mill to determine how industrialization affected the Merrimack River. 
Power to Production (Grades 4-12) Students test water wheels, build canal systems, visit the turbine exhibit to see how water powers machines, and see a weave room in action. 
River as a Classroom (Grades5-8) Students perform water quality tests on the river, learn how water powered machines, identify pollutants past and present, and how clean up water. 
Workers on the Line (Grades 4-12) Students work on an assembly line, experience a loss of control over work through speed ups, react to wage cuts, and decide on a course of action. 
Yankees and Immigrants (Grades 3-12) Students become immigrants, unpack luggage & tell their stories, investigate daily life, and resolve an issue dividing Lowell's citizens.
Details
Subject:

Anthropology, Biology: Animals, Biology: Plants, Chemistry, Climate Change, Commerce and Industry, Conservation, Design, Earth Science, Ecology, Economics, Engineering, Environment, Family Life, Geology, Health, History, Immigration, Inventions / Inventors, Labor History, Labor Law, Literature, Reading, Recreation Ecology, Science and Technology, Slavery, Social Studies, Textiles, Women's History

Keywords:

STEM, industrial revolution, mill, mill girls, factory, child labor, turbine, water wheels, Canals, engineering, immigration, labor, work

type:

Field Trips