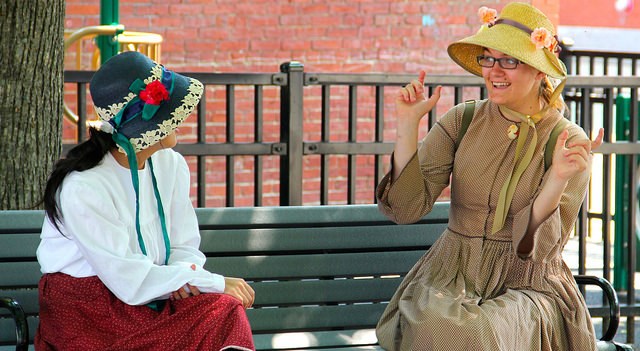 Local high school and college students are helping bring Lowell's past and present to life this summer. Members of the Spindle City Stars Youth Theater Program, through a partnership between Lowell National Historical Park and Community Teamwork, Inc. are researching, writing, and presenting their own original vignettes. These short vignettes include dialogue designed to engage park visitors in topics focusing on Lowell experiences, both past and present, such as life in the city, immigration, challenges and opportunities, and life as a teenager. The program builds leadership in local youth by challenging them to develop provocative historical and contemporary comparisons between youth experiences within the context of Lowell, as well as the rich cultural and ethnic diversity of Lowell today. Don't miss your opportunity to interact with these talented student actors.
One of the many facets of the urban cultural park envisioned by the National Park's founders is that Lowell National Historical Park reflects a "living laboratory" dedicated to exploring the social, cultural and economic lives of the people of Lowell.These students have created pieces that highlight the long and varied history of Lowell. The scenes investigate the lives of Lowell citizens in the 19th, 20th, and 21st century.
The students perform in and around the Visitors Center Wednesday through Saturday through August 14th. Come visit us between 10:30 a.m. and 2:30 p.m. to watch a performance, ask questions, and experience Lowell's past and present.