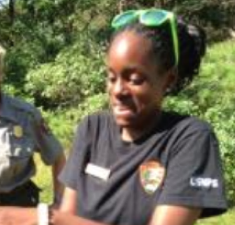 Omisi "Missy" Agbe-Rankhe
Student Conservation Association Intern
Dispatch Operations
Boston National Historical Park
My most memorable experience with the National Park Service would have to be my first year of Spindle City Corps, in the summer of 2009. I truly enjoyed being able to help preserve the maintenance of Lowell by cleaning it up, I feel as though I make a huge difference.
Missy, a Lowell High alumna, graduated from Bay Path College in 2014 with degrees in forensic science and criminal justice. She was a member of the soccer and softball teams at Baypath. She is interested in pursuing a degree in law enforcement. A
member of the Lowell Spindle City Corps team from 2009 through 2012 Missy
served as a team leader of the program jointly administered by the Lowell National Historical Park and Community Teamwork, Inc in 2012.
Missy is currently an intern with the Student Conservation Association serving at Boston National Historical Park working in their dispatch operations.