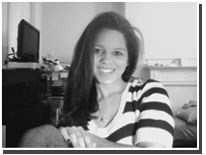 Kimberley Brunner: Park Guide, John F. Kennedy National Historic Site
Kimberley is currently studying history and psychology at Boston University. She graduated from West Morris Central High School in Chester, New Jersey in 2009. Kim loves to learn about American history and has made family trips to several urban national parks including Boston National Historical Park, Independence National Historical Park and the National Mall. She is looking forward to sharing her passion for history with our visitors. Kim's career goals include pursuing a Ph.D. in history and using her skills to preserve historical sites and tell stories of heritage.
Since her junior of high school, Kim has participated in the American Cancer Societies' Relay for Life raising money for her team and serving on the Survivorship Committee. She helped organize the survivor dinner which involved getting food donations from local restaurants as well as sending out invitations to local survivors. She is also a founding member of a new service sorority at Boston University, Omega Phi Alpha, that serves the Boston University community, as well as the Boston area by participating in various community service projects throughout the year.