Mass Parks Student Career Intake Program SCIP II 2010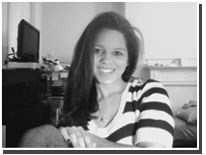 Kimberley Brunner: Park Guide, John F. Kennedy National Historic Site
Kimberley is currently studying history and psychology at Boston University. She graduated from West Morris Central High School in Chester, New Jersey in 2009. Kim loves to learn about American history and has made family trips to several urban national parks including Boston National Historical Park, Independence National Historical Park and the National Mall. She is looking forward to sharing her passion for history with our visitors. Kim's career goals include pursuing a Ph.D. in history and using her skills to preserve historical sites and tell stories of heritage.
Since her junior of high school, Kim has participated in the American Cancer Societies' Relay for Life raising money for her team and serving on the Survivorship Committee. She helped organize the survivor dinner which involved getting food donations from local restaurants as well as sending out invitations to local survivors. She is also a founding member of a new service sorority at Boston University, Omega Phi Alpha, that serves the Boston University community, as well as the Boston area by participating in various community service projects throughout the year.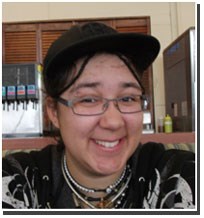 Suki Jo Chiu, Park Guide, Boston Harbor Islands national park area.

Suki Jo graduated from the Academy of the Pacific Rim charter public school in 2009. She is currently studying outdoor recreation and tourist management at the University of Maine, Machias. Suki Jo enjoys working outside and is excited to 'test the waters' and explore career opportunities in the National Park Service.
Suki Jo is a four year member of Branching Out: An Exploration in Landscape Management for Boston Youth, an education and training program offered by Olmsted Center for Landscape Preservation. As a member of the Branching Out team, Suki successfully progressed through the program, starting as a field team member, then completing a park-based internship, and most recently, filling a field team leader position. As a team leader, she assisted with several landscape maintenance and management projects for sites in the Northeast Region while also providing peer instruction and guidance. Suki Jo also worked with the Thompson Island Outward Bound Green Corps. Suki Jo also enjoys acting and theater.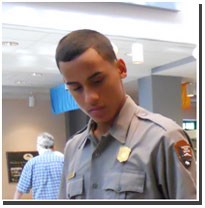 Victor "Manny" Cruz, Park Guide, Salem Maritime National Historic Site.
Manny, a 2010 graduate of Salem High, is a political science major at Salem State University. Manny is entering his second season as a park guide at Salem MaritimeNational Historic Site.
Civic engagement and politics are center in Manny's life. He is a freshman senator of the Salem State Student Government Association, a member of Governor Deval Patrick's State Wide Youth Council, and a student board member of the Youth Rising Organization. Manny strives to improve the lives of youth. His goals include becoming a representative to draft legislation that effects youth and contribute to improving the education system.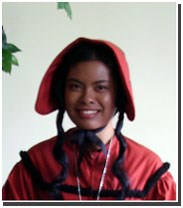 Victoria Vann, Park Guide, Lowell National Historical Park
Victoria is a 2009 graduate of Lowell High School. She is a sophomore political science major and German language minor at the University of Massachusetts Lowell. She is beginning her third season as a seasonal park employee at Lowell National Historical Park. Victoria was also a member of the park Youth Theater Program where she presented formal and informal interpretive programs for park visitors.
Victoria is one half of a violin/guitar/vocals duo that performs for museums and women's functions around Lowell. Victoria is active in her church. She attends services every weekend as it is a time for her to worship and be with family. Her church does mission work for people in Cambodia and Victoria finds strength in making a difference in other people's lives.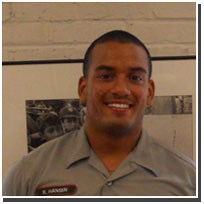 Richard Hansen, Lowell, National Historical Park
Fluent in both English and Spanish Rich plans to complete his degree in business and become a licensed electrician. When not traveling with SCIP, Rich will work at Lowell National Historical Park as an electrician apprentice helping with some exciting green energy projects such as the installation of wind turbines at the maintenance facility.
Rich first worked at the park as part of the Greater Lowell Regional Vocational Technical High School Electrical Co-op Program. He spent the past two summer seasons working in the Maintenance Division. Rich helped to install the solar electric system at the Boott Cotton Mills facility. Rich is working towards a degree in Energy Management at Mount Wachusett Community College.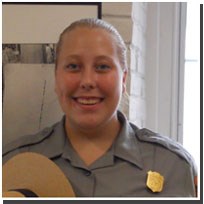 Sarah Martin, Park Guide, New Bedford Whaling National Historical Park Valley Forge National Historical Park
Sarah just completed her freshman year at Bridgewater State College where she is studying to be a teacher.
Sarah works at New Bedford Whaling National Historical Park. She is the first SCIP intern to hit the road and work at another national park. Sarah will be a seasonal employee at V alley Forge National Historical Park this summer.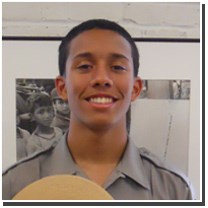 Jonathan Morel, Visitor Use Assistant, Salem Maritime National Historic Site

A resident of Salem, MA, Jonathan graduated from Salem High School in 2010. He attends North Shore Community College. Jonathan is fluent in Spanish and enjoys playing basketball.
Jonathan was a Junior Camp Counselor at the Boys & Girls Club of Greater Salem and enjoyed presenting teen cooking sessions. He received the 2010 Youth of the Year award for his positive respectful attitude and his work with other youth. He contributed over 200 hours to habitat for Humanity and participated in E.A.R.L.Y and Upward Bound programs. Jonathan enjoys encouraging members of the Hispanic community to visit Salem Maritime NHS by presenting programs designed to introduce them to opportunities available through the National Park Service.
Rubby Wuabu, Visitor Use Assistant, John H. Chafee Blackstone River Valley National Heritage Corridor Commission
Born in Ghana, Rubby's goal to be a lawyer is driven by a personal quest to find a career that will grant her independence based on talent instead of gender. Rubby just completed her junior year at Simmons College in Boston where she studies political science and international relations. Participating in SCIP allows Rubby to explore possible career opportunities in the National Park Service and create a well-rounded individual through exposure to diverse job experiences.
She was appointed as Senior Interviewer for Simmons College; when students request interviews she will be one of the students who interviews them and answers questions to help them prospective students determine is Simmons is the right school for them. Rubby received the Elizabeth Rawlings Scholarship and was awarded the honors program study abroad scholarship. She also created the Blackstone Canal Tour, a youth run tour company that offers tours of the history of Worcester by horse and buggy. The program is entering its fifth summer and Rubby will hire high school students from her Alma Mater, South High Community School, in Worcester, MA through a Massachusetts humanities grant.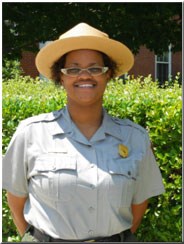 Karyn Heidelberg GS-090-03 Park Guide Boston African American NHS
I seem to be able to make a connection with people. When I can see a smiling person's face thaw; I just helped, it really brings me joy.
A resident of Warwick, Rhode Island, Karyn graduated from Warwick Veterans High School in 2005. She currently attends Community College of Rhode Island. She planned on entering the medical field when her goals and major changed to focus on her love of history. Karyn expects to broaden her horizons by experiencing the varied career fields in the National Park Service. She is interested in exploring other fields of history beyond her knowledge of African American stories.
At CCRI Karyn is on the Board of Judicial Review, Secretary of Student Government and President of the Black Student Association. Karyn has a lot of experience with customer service. She worked four summers with the Boston African American National Historic Site Trailblazers Youth Program from 2003 through 2006. She greeted visitors to the site and the programs, answered phones and assisted with office duties.
Karyn is learning to conduct tours at Boston African American National Historical Park. She will also be assisting with special curatorial projects this summer.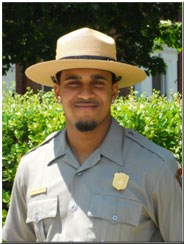 Nickson Monteiro: GS-090-03 Park Guide Salem Maritime National Historic Site
My greatest strength I would have to say is that I'm very committed and dedicated to the parks and to the role of the National Park Service.


A 2010 graduate of Roxbury Community College and a 2008 graduate of South Boston High School Nickson will attend UMass Amherst in fall. Nickson is pursuing his degree in business administration with the goals of receiving an M.B.A. and using his finance and accounting skills to serve environmental interests. Nickson began his association with the Boston Harbor Islands as a Junior Ranger in 2006. While a Junior Ranger he instituted Family Fun Days and emphasized Leave No Trace values. As an Island Ambassador with the Boston Harbor Alliance Nickson gained practical experience in retail and used his business skills to increase the sales of the Boston Harbor Islands store.
Nickson is working in the administrative offices at Salem Maritime National Historic Site.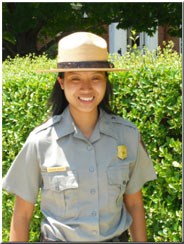 Saoran Roeuth SCEP Administrative Trainee, Lowell National Historical Park
I love learning and I believe a career in the National Park Service would give me plenty of opportunities to learn more.



We fully expect Saoran to be the first SCIP intern to become a permanent employee in the National Park Service. Saoran is currently holds a SCEP appointment in administration. The pieces are in place to convert her to an administrative support position when she graduates this May from Middlesex Community College with a certificate in paralegal studies.
A graduate of Lowell High School and University of Massachusetts, Lowell, she is fluent in Khmer and is a member of Beta Gamma Sigma, the international honor society for excellence in business studies. Saoran has worked with Lowell National Historical Park in the unique position as a park aide. Hired in 2007 she was one of the first students hired in this position not only to gain experience working at park sites, but to conduct boat tours and play traditional Cambodian games at the annual Southeast Asian Water Festival. A natural leader, Saoran served as a youth facilitator for the UMass Lowell Center for Family, Work and Community River Ambassador Program from 2005 through 2007. Working with 15 Lowell High youths interested in educating the community about the environment, Saoran assisted the program coordinator, planned and conducted weekly meetings, and organized trips and activities.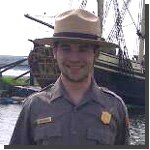 Ryan McMahon
Park Ranger GS-0025-05
Salem Maritime National Historic Site

Ryan currently attends Salem State University. His work as a park guide at Salem Maritime NHS prompted him to shift schools and majors to American studies. Ryan has his associates degree in liberal arts from North Shore Community College. He is a resident of Lynn and graduated in 2007 from St. Mary's Jr./Sr. High School.
Ryan enjoys working with the public in many different ways. As an interpretive park ranger at Salem Maritime he meets many different people at the Visitor Center and out in the resources. A memorable experience for Ryan with the National Park Service was meeting a young boy and his mother while on the Friendship (Salem Maritime's tall ship) and hearing the mother's story of her difficulties with her son's academic problems and her struggle to find ways to make him interested in learning. I took this as a challenge and set out to engage this young child's mind. Somehow I wanted to make history come alive for this boy. In his free time Ryan likes to travel and enjoys alpine skiing.
Last updated: February 26, 2015