Helena Sites
It was on November 21st, 1941, that the first broadcast of King Biscut Time was recorded in Helena, Arkansas. Headlined by Blues artists Sonny Boy Williamson II (Also known as Rice Miller) and Robert Lockwood, Jr, the program quickly grew in influence and popularity and turned the small town of Helena into a major center for the Blues, and became home to a number of prominent artists. Unfortunately, many of the sites associated with this period, including the boarding house Sonny Boy Williams stayed at after returning to Helena in 1965, the old Interstate Grocer Co. building where King Biscut Time was born, and the Floyd Truck Lines Building where the program was broadcast in the 1940s, have been demolished. However, a number of sites still remain, and help to tell the tale of the Delta's Blues history.
Delta Cultural Center
95 Missouri Street, Helena Arkansas
The Delta Cultural Center is a museum dedicated to telling the story of the history and culture of the Arkansas Delta. In addition to featuring exhibits on Blues, Gospel, and Country artists from Arkansas, such as Sonny Boy Williamson, Louis Jordan, Robert Lockwood, Jr, and others, the Center also hosts the King Biscuit Time radio show every Monday through Friday from 12:15 to 12:45.
Kitty Cat Club
163 Missouri Street, Helena Arkansas
Helena National Bank
302 Cherry Street, Helena Arkansas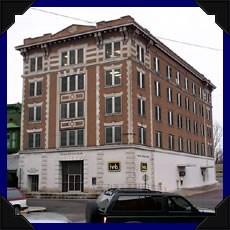 During the 1960s, King Biscuit Time was broadcast from the top floor of the
Helena National Bank Building
. Sonny Boy Williamson held his last radio shows here.
Last updated: November 3, 2017