Delta Sites
Hirsberg's Drugstore
649 Second Street, Friar's Point, Mississippi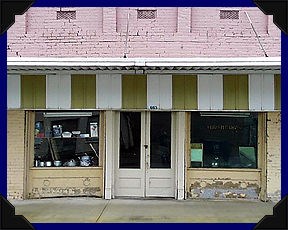 Muddy Waters
said that the only time he actually saw
Robert Johnson
was on the front porch of
Hirsberg's Drugstore
in Friars Point, Mississippi. A crowd of people had gathered around Johnson, who was playing ferociously. Waters became intimidated by the older man's musicianship and quickly left.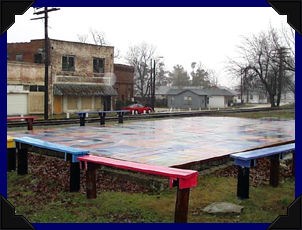 Tutwiler Train Station
100 Bruister St, Tutwiler Mississippi
Tutwiler train station
is where
W.C. Handy
first heard a man play the blues on a slide guitar. A historical marker and a nearby mural identifies the spot - only the foundation remains.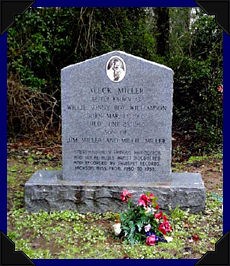 Sonny Boy Williamson Gravesite
Whitfield Church, Tutwiler Mississippi
In the graveyard of Whitfield Church, off of Highway 49, is the final resting place of harmonica legend Aleck "Rice" Miller, better known as
Sonny Boy Williamson.
Aleck Miller's grave looks out across the hot and dusty Delta cotton fields.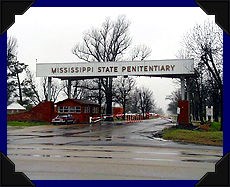 Parchman Farm
590 Parchman 40 Rd, Parchman, MS
Parchman Farm
is the Mississippi State Penitentiary, a large work farm where convicts formerly raised cotton and staples. Once notorious for squalid conditions and inhumane treatment by gun-toting trustees, it housed
Son House
,
Bukka White
, and several other bluesmen that had been incarcerated by the state of Mississippi. In 1939, folklorist Alan Lomax recorded White and others at Parchman Farm for the Library of Congress.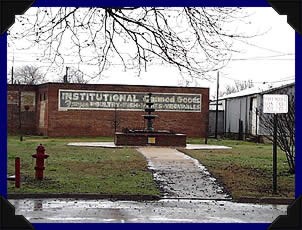 Drew Town Square
Drew, Mississippi
On
Drew's town square
,
Charley Patton
,
Tommy Johnson
(who lived on the nearby Webb Jennings Plantation), and Willie Brown played for tips from farmers who had come to town. A young
Howlin' Wolf
, who was heavily influenced by these men, did the same during the late 1920s and early 1930s.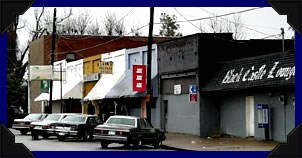 Greasy Street
N Front Street, Ruleville Mississippi
Howlin' Wolf
moved to the Young & Myers Plantation near Ruleville when he was thirteen. During the late 1920s and early 1930s Wolf played the streets of Ruleville for tips. The town still has juke joints, some of which are pictured here on Front Street, also known locally as
Greasy Street.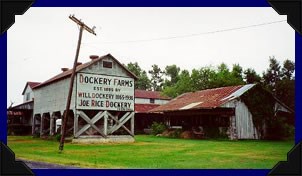 Dockery Plantation
229 MS-8, Cleveland Mississippi
The
Dockery Plantation
was home to
Charley Patton
for many years, and it was here that he learned from bluesman Henry Sloan. Patton's friends Willie Brown,
Son House
, and
Tommy Johnson
played parties, picnics, and fish fries in the tenant quarters at Dockery.
Howlin' Wolf
moved to Dockery Plantation in 1929 to work and soak up Patton's music.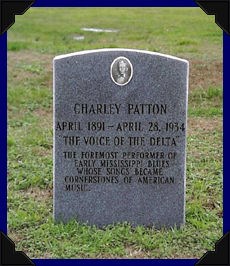 Charley Patton's Grave
75-83 Holly Ridge Rd, Indianola Mississippi
Charley Patton's Grave
is in Holly Ridge, Mississippi. The graveyard is surrounded by cotton fields and next to a large cotton gin. The New Jerusalem Missionary Baptist Church, where
Charley Patton
performed his religious songs, is nearby.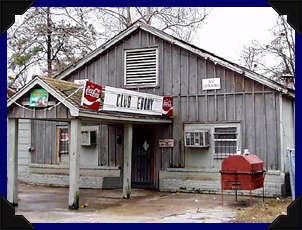 Club Ebony
400- USA, 404 Hanna Ave, Indianola Mississippi
In Indianola, Mississippi, south of the railroad tracks, sits the venerable Club Ebony (formerly Jones Night Spot) where a young
B.B. King
saw
Sonny Boy Williamson
, Robert Jr. Lockwood,
Robert Nighthawk
, and other great performers.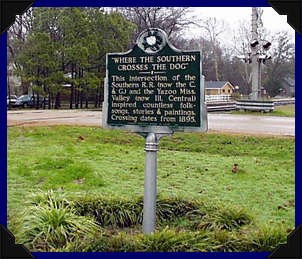 Where the Southern Crosses the Yellow Dog
W Delta Avenue, Moorhead Mississippi
In the small town of Moorehead, the Southern Railway line crossed the tracks of the Yazoo Delta Railway, or Yellow Dog in local parlance. A sign commemorates the spot "Where the Southern Crosses the Dog", a site often referred to in blues lyrics and made famous by
W.C. Handy
in his song "Yellow Dog Blues."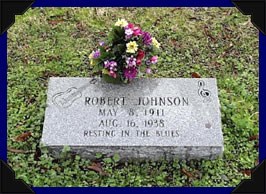 Robert Johnson's Grave
32830 County Road 167, Itta Bena Mississippi
No one knows where Robert Johnson was truly buried after he died in 1938. This site, located behind the Payne Chapel Missionary Baptist Church in Quito, Mississippi, is but one of three potential locations that have been identified as the legendary musician's resting place. The other two identified locations are the graveyards of Mount Zion Missionary Baptist Church in Morgan City, and Little Zion Missionary Baptist Church in Greenwood.
Last updated: November 2, 2017